Light and technology are the focal points of the newly opened Shore Medical Center Surgical Pavilion.
Located in the seaside community of Somers Point, N.J., the healthcare facility was designed and constructed to meet certification for the U.S. Green Building Council's (USGBC's) LEED® Rating System™. Along with protecting the environment, Wausau Window and Wall Systems helps protect patients' safety and comfort with a hurricane-impact-mitigating curtainwall system. The system is manufactured with recycled aluminum, and maximizes outside views and natural lighting -- all of which contribute toward achieving a LEED rating.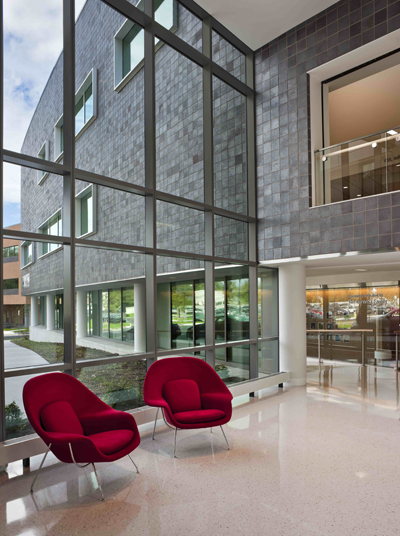 Long been known to have many positive benefits, the prevalence of natural light throughout the new 138,000-square-foot Surgical Pavilion is intentional. "The new surgical pavilion emphasizes healing, daylight in a compassionate setting," says Wausau's health care market manager, Lisa May, LEED Green Associate. "In addition to saving energy and costs by reducing electric lighting, natural light benefits patients and staff. The USGBC reports that patients in settings with natural light and views of nature recover faster, use less pain medication and have shorter stays. Studies also have shown that a naturally-illuminated workplace contributes to improved staff health and morale."
Designed by Ballinger Architects, the commitment to natural light continues throughout the Shore Memorial Surgical Pavilion. The building's boardroom offers expansive views of the surrounding bay and shore. Visitors to the pavilion are welcomed into a first-floor open lobby framed with floor-to-ceiling windows created with Wausau's SuperWall™ Series system.
The center's nine surgical suites also include something rarely seen in operating rooms: daylight. Each suite has at least one window that opens to a sterile equipment hallway, which has a larger glass window overlooking the bay.
As the window views help patients, visitors and staff stay connected to their surrounding environment, the high-tech tools inside the operating room help the Center's surgeons, nurses and support staff better observe a patient's status. A wall-mounted oversized flat-screen television displays relevant data, and other monitors provide medical staff with an array of medical images such as MRIs and CT scans. A video camera is available to record procedures for training in real time.
The building's proximity to the Atlantic Ocean meant that the curtainwall system must withstand hurricane conditions. Wausau's SuperWall system's impact rating testing includes large missile tests for windborne-debris-impact resistance performance and adheres to ASTM E 1886 and ASTM E 1996 for missile level D, Exposure C,
wind zone 2.
Guthrie Glass & Mirror's owner, Lynn Guthrie, was pleased with Wausau's high-performance products and service. She says, "They engineered the job very well."
Guided by general contractor Massett Building, Guthrie's team installed more than 25,000 square feet of Wausau's SuperWall. The system's aluminum framing contains high recycled content in varying unit depths of 6.25 inch, 8.25 inch and 10.25 inches, painted in a durable, three-coat, 70 percent polyvinylidene fluoride (PVDF). Wausau's factory supervisor, Steve Pluger, notes,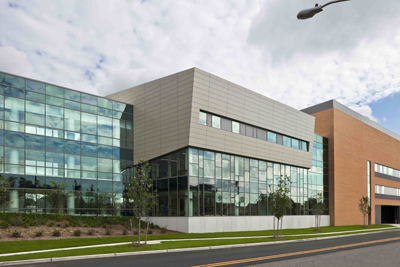 "The strip windows and curtainwall systems' aluminum framing was finished by Linetec in Slate Gray and punched windows were painted Bone White. Deep covers were provided for the punched windows and strip windows."
"PVDF coatings are the most weather-resistant of all finishes," explains Linetec's Tammy Schroeder, LEED Green Associate. "The finish used for Shore Memorial is tested to meet AAMA 2605, a high-performance specification for architectural and heavy commercial applications that includes 4,000 hours salt spray and heat-and- humidity resistance. The liquid coating is applied in Linetec's factory using specialized equipment to safely capture 100 percent of the VOCs released in the painting process, and to destroy these captured VOCs with 98 percent efficiency and environmental sensitivity."
Shore Memorial's commitment to environmental leadership is evident throughout its campus. It was the first LEED-Gold certified hospital in New Jersey and the largest on the East Coast. In addition to long-lasting, high-performance window systems, its facilities use high-efficiency HVAC equipment coupled with cogeneration plants, LED lighting with smart sensors that adjust for occupancy, landscaping to manage stormwater, vegetative roofs to reduce its carbon footprint, and products with Green Seal certification to maintain the properties' safety and cleanliness.
As the newest addition to Shore Memorial, the Surgical Pavilion also is seeking LEED certification. The $125 million expansion opened in September 2011. The former Shore Memorial Hospital used the grand opening of the Surgical Pavilion to launch a re-branding campaign, including renaming the facility as Shore Memorial Medical Center.
**
Shore Memorial Surgical Pavilion -1 East New York Avenue, Somers Point, N.J. 08244
* Owner: Shore Memorial Medical Center
* Architect: Ballinger; Philadelphia, Pa.
* Contractor: Massett Building Company; Somers Point, N.J.
* Glazing contractor: Guthrie Glass & Mirror; Egg Harbor Township, N.J.
* Curtainwall systems -- manufacturer: Wausau Window and Wall Systems; Wausau, Wis.
* Curtainwall systems -- finisher: Linetec; Wausau, Wis.
* Photographer: Tom Crane Photography Inc.; Bryn Mawr, Pa.
600
450
Wausau Window and Wall Systems
2012-01-09T12:00:00
Shore Memorial Surgical Pavilion designed to meet LEED criteria, features Wausau SuperWall to provide healing, natural light
glassonweb.com