Photo source
Eat Pomegranate Photography
The beautiful Zaha Hadid-designed Eli and Edythe Broad Art Museum at Michigan State University features Guardian Glass on the façade and, now, on the inside as part of a new exhibition.
Oscar Tuazon: Water School is an exhibition by Los Angeles-based artist Oscar Tuazon. As part of this Water School initiative, three modules of Tuazon's major sculpture-as-architectural form, Zome Alloy (2016), are erected in the museum's galleries and create a space for both formal and informal learning opportunities to specifically address water and land rights, sustainability, and other environmental concerns – connecting local issues with national and global matters. A robust schedule of classes accompanies the exhibition, with the Water School acting as a platform for a plurality of expressions concerning water politics today.
Aspects of Tuazon's works are inspired by inventor and engineer Steve Baer. Baer's "water window" is one such example, which until this point had only been a dream of the artist's to try and recreate. Although the prototype at MSU Broad is not fully functional, it provides a full-size concept work for Tuazon's reinterpretation of the "water window" feature.
This concept utilizes passive solar energy to store heat in water that is then released over time to heat the enclosed environment. Updating Baer's original design, Tuazon continue to explore filling the space between the two panes of glass with water, thereby allowing the window to remain a window, as such, yet adding the possibility for the window to store and release heat.
"This new prototype is a major advancement for the artist, specifically made possible by Guardian Glass and the amazing team there. Tuazon's vision for this work has now been made into a reality, further propelling the artist in his pursuit of new forms of artistic achievement with an eye towards environmental sustainability. The generosity and expertise of Guardian Glass to the development and implementation of this work is nothing short of extraordinary," says Steven L. Bridges, associate curator at the Eli and Edythe Broad Art Museum.
Tuazon's "water window" uses more than 200 square feet of monolithic, tempered lites provided by Guardian Glass. The four trapezoidal shapes, which weigh in excess of 800 pounds, are installed in a steel frame connected to a post and bearing, which allows the water window to also rotate, further transforming the window into a door. A digitally printed image – a reference to the original water window by Baer – was placed on the 3rd surface and fired into the glass.
The Guardian Glass Science and Technology Center worked closely with Tuazon and the MSU Broad curators to produce the glass used in the arresting sculpture.
"We were happy to come back to the site of an impressive example of Guardian Glass' use in commercial architecture to assist the team in this exhibition," says Cory Richardson, senior applications engineer, Guardian Glass Science & Technology Center. "Architects and designers look everywhere for inspiration, so this application, bringing the glass inside the museum for this beautiful installation, helps Guardian Glass come full circle in giving the community a fresh way to see the possibilities of creating with glass."
The exhibition will be on view at the Broad through August 25.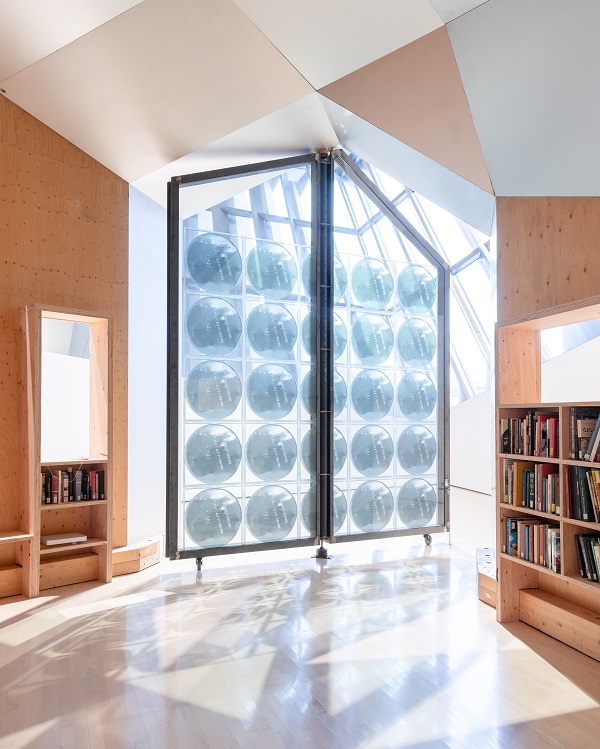 600
450
www.guardianglass.com
2019-04-29T11:40:00
Sculptor uses Guardian Glass for MSU Broad exhibition
glassonweb.com