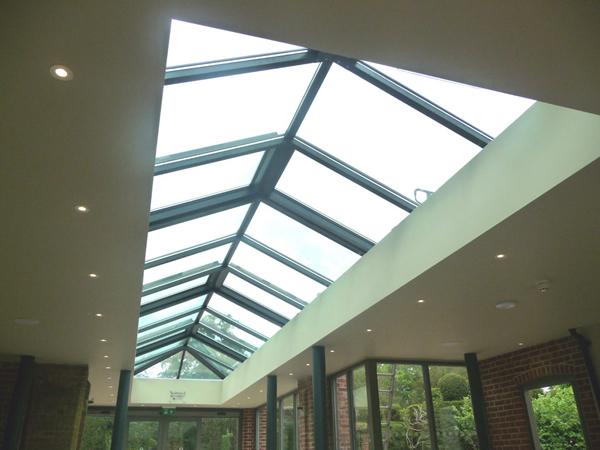 Photo source
The Oaksmere Hotel, Suffolk (Main entrance) | Photo: Roofglaze
The Oaksmere Hotel recently underwent a renovation for which they requested the assistance of Roofglaze in the design, supply and installation of various bespoke glazing solutions.
Situated in the historic county of Suffolk, the Oaksmere Hotel is renowned for its picturesque views and exceptional service. The design focus of this project was heavily influenced by the aim of maintaining these outstanding qualities for the hotel.
The first rooflight solution provided by Roofglaze was a bespoke Ridgelight that further illuminates the main entrance of the Oaksmere, further enhancing the first impression of new guests. Roofglaze designed this Ridgelight to fit the required specifications given, which involved; a span of 2,500mm and a length of 12,000mm.
The glazing installed has a thickness of 32mm, which offers a centre-pane U-value of 1.0 W/m2K, ensuring that a comfortable environment is created for guests. This Ridgelight is set at a 25o angle to effectively full its purpose of harnessing the maximum amount of natural light into the building.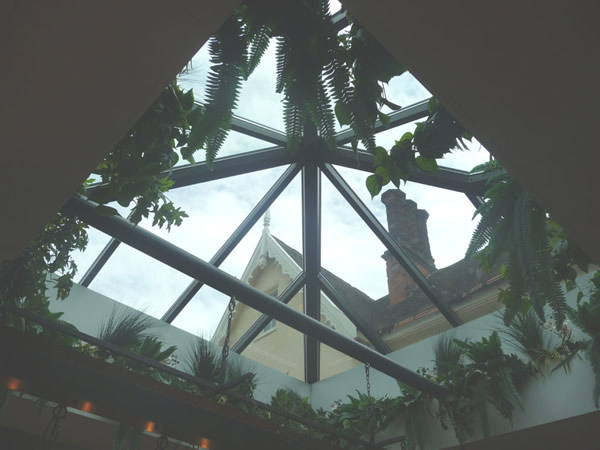 The second area for rejuvenation was the hotel's restaurant, which is located towards the back of the hotel. For this, a second but smaller Ridgelight was implemented into the design.
The measurements of this are as follows; a span of 2,400mm and a length of 4,200mm, including an overall glazing thickness of 32mm. The glazing specifications for this Ridgelight are the same as the one at the hotel's entrance. Further technical details for these rooflights can be found below.
The final instalment of the Oaksmere Hotel project is a Pyramid rooflight, positioned in the centre of the restaurant to gain the optimum benefit from the additional natural light here. The rooflight itself measures 4,200mm across all four sides, and it was also set at an angle of 25o to maximise the visual impact of this upgrade.
This project has essentially given the Oaksmere a much-improved level of natural light ingress into key areas of the hotel, helping to make each room feel larger and more welcoming. Guests are also now surrounded with natural scenic views, which only further adds to their stay.
Below are the full glazing specifications for this project: –
Ridgelight 1 (Main Entrance):
2500mm width – 12000mm length
Non-fragile
Glass thickness of 32mm, centre-pane U-value of 1.0 W/m2K, 64% light transmission
Wind load of 640 n/m2, snow load of 750 N/m2
Ridgelight 2 (Restaurant):
2400mm width – 4200mm length
Non-fragile
Glass thickness of 32mm, centre-pane U-value of 1.0 W/m2K, 64% light transmission
Wind load of 640 n/m2, snow load of 750 N/m2
Pyramid Rooflight (Restaurant):
4200mm each side
Non-fragile
Glass thickness of 32mm, centre-pane U-value of 1.0 W/m2K, 64% light transmission 
Wind load of 640 n/m2, snow load of 750 N/m2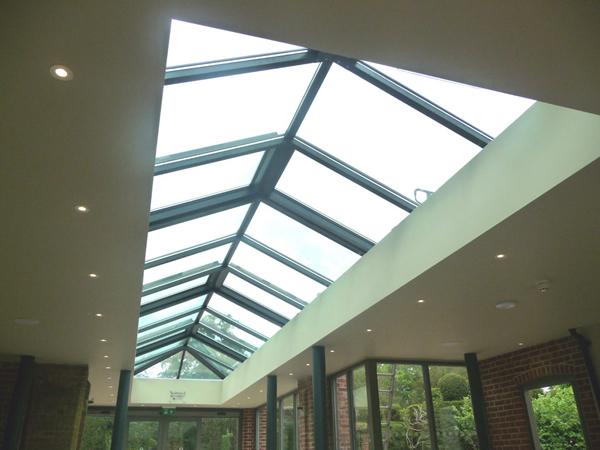 600
450
www.roofglaze.co.uk
2017-08-16T08:00:00
Roofglaze Project: The Oaksmere Hotel, Suffolk
glassonweb.com