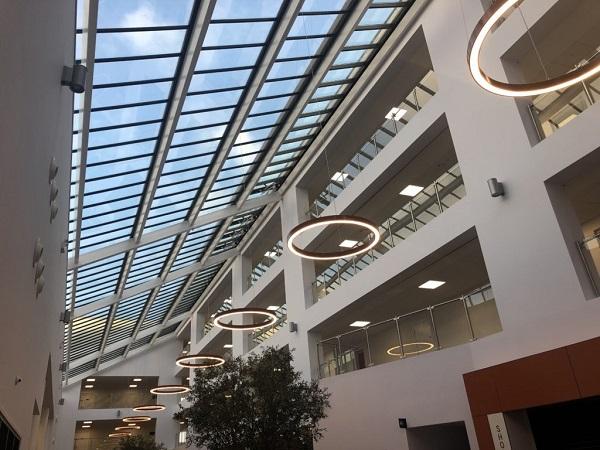 Photo source
www.roofglaze.co.uk
Roofglaze was specified to design, supply and install the two architectural daylighting and ventilation roof systems featured at Stoke Gifford Retirement Village.
A brighter, socially-inclusive retirement village has been expertly designed by architects Nicol Thomas and built by Galliford Try Partnerships to provide a new vibrant lifestyle for residents over the age of 55 in South Gloucestershire and Bristol.
This £44 million development has been delivered through a partnership between the ExtraCare Charitable Trust (ECCT), the Bristol City Council and the South Gloucestershire Council.
The Stoke Gifford care home was the first major new contract win for Galliford Try Partnerships West Midlands. Stephen Teagle, Chief Executive of Galliford Try Partnerships, said:
"The confidence demonstrated in our new business by ECCT is testament to the high standards that Galliford Try Partnerships is already delivering across the country. We are investing in Bristol and the West of England as an area of future growth."
A space to live, socialise and relax
Located to the east of Coldharbour Lane in Stoke Gifford, near to the University of West England campus, the spacious village provides 261 state-of-the-art retirement apartments, with superb communal facilities such as a fitness centre and a public library; providing opportunities to the residents to socialise and lead an active, fulfilling life as part of a local community.
The design concept of the village focuses on community and social inclusion, ensuring that residents can meet and engage in new activities, hobbies and friendships. Stoke Gifford Village has been thoughtfully designed to offer peace of mind and make their residents lives as comfortable and enjoyable as possible.
Rooflights for brighter, healthier living
From mood lifting to reducing blood pressure and improving sleep, the benefits of natural light and good indoor air quality are numerous and well established. Therefore, it's no surprise that plenty of natural light and ventilation was a key requirement for the client; ensuring that the retirement village residents benefited of comfortable thermal temperatures, natural daylight, fresh air and improved well-being.
Due to Roofglaze's vast years of experience and expertise on commercial and public buildings and having worked with Galliford Try Partnerships on other large-scale projects, Roofglaze was specified to design, supply and install the two architectural daylighting and ventilation roof systems featured at Stoke Gifford Retirement Village.
The design of the Village Centre features a central atrium consisting of a 4 tier self-supported Monopitch rooflight, measuring 43 metres long and spanning 8.9 metres. This installation utilises both Vitral A74 and Schüco FWS 60 glazing systems, incorporating 90 vents for natural comfort ventilation and 6 smoke vents to assist with the fire and safety strategy of the building, making it compliant with BS EN 12101-2.
For the Winter Garden, a Vitral G80 Ridgelight was installed. Measuring 42 metres in length and spanning 5.4 metres, this 30-degree dual-pitch lantern rooflight was specified to maximise the amount of daylight and natural air ingress throughout the building. The Vitral system is characterised by a slim, elegant design and low profile for a contemporary look and feel.
Laminated inner panes were used on both rooflights to ensure the residents' safety and peace of mind. Roofglaze has delivered a quality-tested, energy-efficient, cost-effective daylighting and ventilation solution that's met their client's project requirements.
Jonathan Walsh (Assoc. Construction Director of Galliford Try Partnerships West Midlands) had this to say about the performance of Roofglaze on the ECCT Stoke Gifford project:
"We have worked with Roofglaze on several projects and their support, from technical design all the way through to installation on-site has been very efficient. Roofglaze have always fulfilled the brief set, as their range of rooflights has suited our projects providing a high-quality rooflight solution with professional levels of service."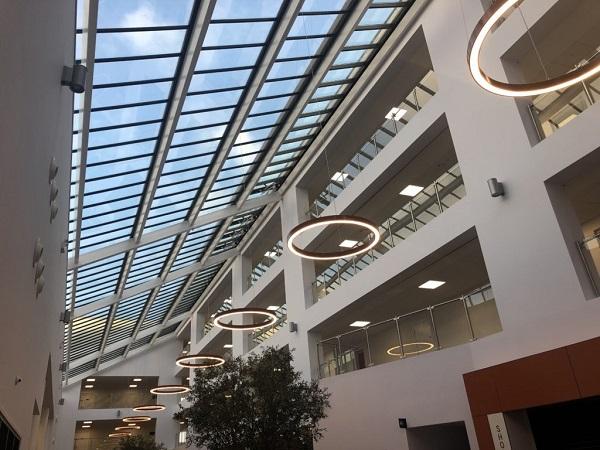 600
450
www.roofglaze.co.uk
2019-02-01T07:30:00
Roofglaze Project: ECCT Stoke Gifford Retirement Village
glassonweb.com