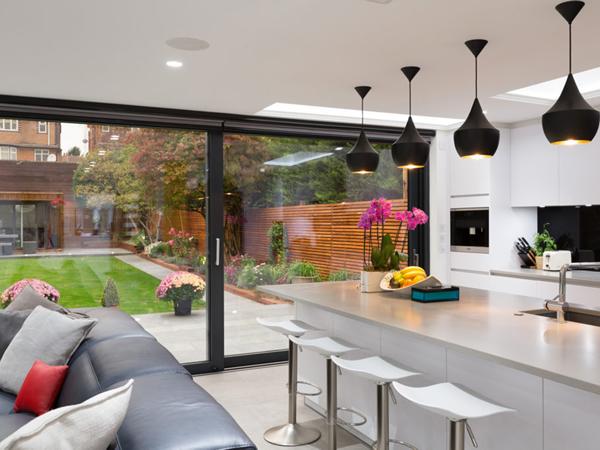 Photo source
www.roofglaze.co.uk
Situated in a desirable location with nearby parks and schools in Totteridge, London, this modern family home designed by JLArchitecture utilises Roofglaze's Hinged Flatglass rooflights for natural daylighting and ventilation.
JLArchitecture considered the clients' lifestyle and envisioned a stunning family home that fully met the homeowners' requirements, offering practical solutions that added new value to the property.
Building remodelling breathes new life into family home
JLArchitecture, an experienced architectural practice who specialises in home extensions and remodelling of residential properties throughout London, was appointed to remodel and extend an original three bedroom home to suit the family requirements for modern living, integrating the latest technology into the property.
The client desired a spacious, contemporary, functional, light and airy home, with an uplifted outdoor space. To achieve this, JLArchitecture redesigned the property to accommodate five bedrooms with three en-suites and a new family bathroom with new ancillary spaces. A ground floor side and rear extension and a first floor rear extension was created, with the attic converted into a master en-suite bedroom, adding valuable space to the home.
To improve the exterior aesthetics of the property, JLArchitecture repaved the front driveway and landscaped the rear garden of the property, transforming the outdoor space into a contemporary, beautiful area where the family can relax and socialise.
Designing smart homes
With the rapid advancement of home technology and the desire for smarter homes, creating multi-purpose spaces that can accommodate a lifestyle of working from home, socialising and relaxing is now an increasingly relevant factor in the architectural and design process.
One of the main challenges experienced by JLArchitecture was to co-ordinate the building structure with the internal finishes and technology integration, to ensure minimal interference between the steel beams and the cabling networks for maximum signal quality.
Rooflights for natural ventilation
Roofglaze's Hinged Flatglass rooflights were instrumental in ensuring natural ventilation and daylighting throughout the extended kitchen and living space. JLArchitecture created a contemporary, light, airy living area equipped with state-of-the-art kitchen appliances, trendy white kitchen cabinets, a great amount of kitchen storage and a modern seating area, where the family can gather, watch TV and relax. Large glass doors lead onto a landscaped, colourful garden, assisting with wind driven ventilation and creating a seamless indoor-outdoor connection.
A large rooflight was intelligently installed above the kitchen island eating area, allowing in fresh air and removing any unpleasant smells from the kitchen space. Easy-to-use and electrically operated, Roofglaze's Hinged Flatglass rooflights can be opened and closed at a touch of a button, allowing large amounts of fresh air and natural light into the room. Supplied with rain sensors that close automatically if it starts raining, the home is protected from adverse weather conditions throughout the year.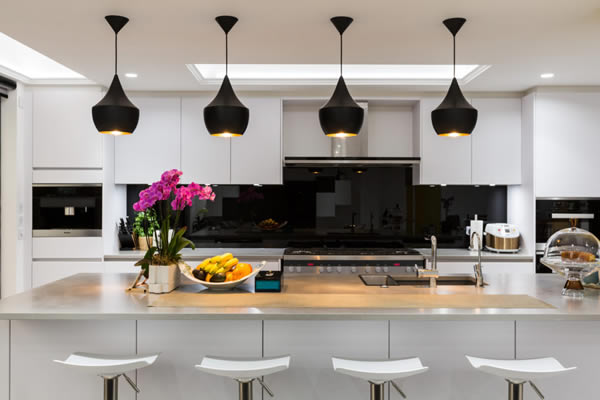 Having specified Roofglaze's Flatglass rooflights on previous projects, JLArchitecture trusts their rooflight specification expertise:
"Roofglaze played an important role in helping us to specify the correct sizes and specification of the rooflights. All the Flatglass rooflights are electrically operated allowing the owner to open the rooflights for natural ventilation. The rooflights are also have rain sensor controls which automatically closes when it rains. This is really advantageous particularly when the owners are not at home. Roofglaze's rooflights also allows plenty of natural light to fill the new internal spaces and has greatly contributed to the modern internal appearance of the new open plan kitchen / dining and lounge space. We have worked with Roofglaze for over a dozen projects and we look to continue to collaborate with them in the future with our projects."
James Lai MCIAT MSc, Chartered Architectural Technologist and Designer, JLArchitecture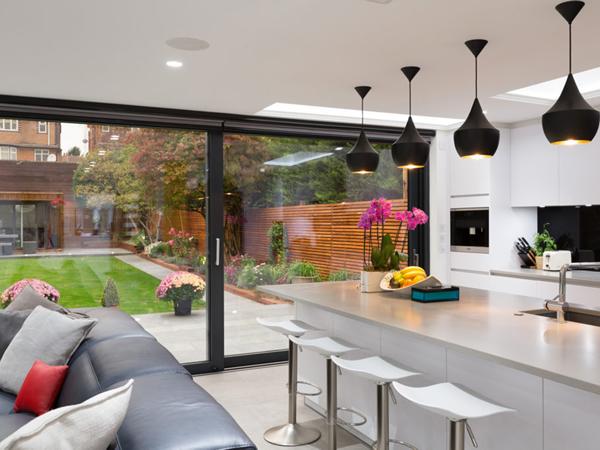 600
450
www.roofglaze.co.uk
2019-09-02T07:30:00
Roofglaze Case Study: Private Residence, Totteridge
glassonweb.com