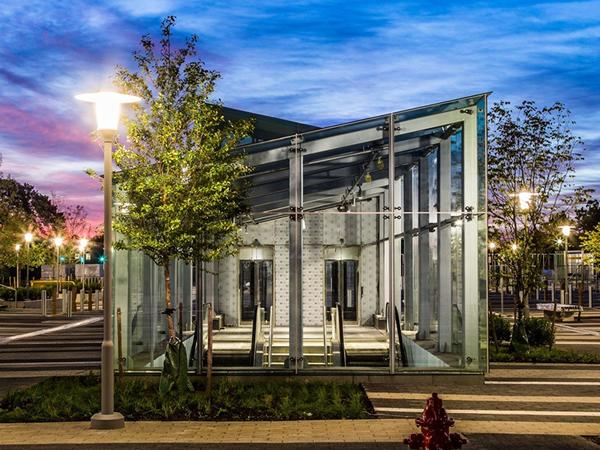 Photo source
www.wwglass.com
DCS selected NY-based W&W Glass to help them design a stunning point-supported glass structure that protects and inspires.
First impressions are everything and true professionals know that attention to detail can either enhance or detract from a first impression.
At first glance, many might not notice the well-thought-out details of the new Wiehle Avenue Metro station at Reston Station.
However, this Reston, Virginia stop is quickly becoming the most desired destination to live, work, and play just outside of the Washington D.C. area. Reston Station is a visionary concept like no other in Northern Virginia.
This modern concept melds convenience and luxury with a multitude of vibrant entertainment, retail, and restaurant options. Reston Station is much more than just another stop on the Silver Line.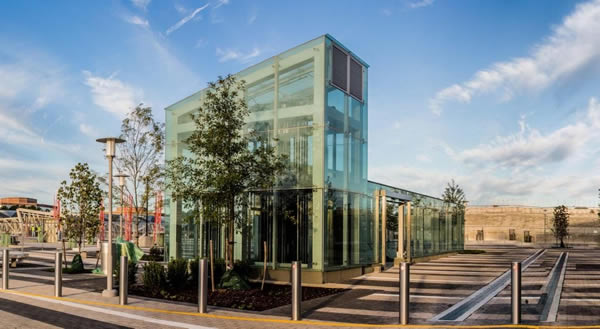 One of the main projects in this development is Reston Station Building 4. It's a mixed-use center and transit-oriented haven for commuters to Washington, D.C. and the surrounding areas.
The most notable building is the BLVD at Reston Station apartment complex that can be seen from either direction on the Dulles Toll Road or from the metro station it towers over.
With 3,500+ underground parking spaces and state-of-the-art electric vehicle charging stations, Reston Station is a great starting point for adventures all around Virginia.
In addition to luxury apartments, what really sets this location apart is the sleek, glassy entrance to the seven-level, underground transit center.
Fairfax County selected DCS Design to not only make a functional area for commuters and residents to be protected from the inclement weather and varying seasonal temperatures when going up and down from the tracks to the multi-use area, but to enhance the feeling of all those who use Reston Station.
DCS selected NY-based W&W Glass to help them design a stunning point-supported glass structure that protects and inspires.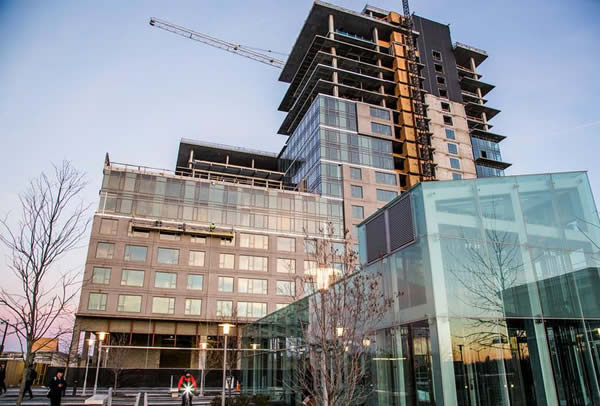 Since the enclosure is located in a bustling plaza area, DCS paid special attention to highlight this entrance over the escalators with minimal visual disruption by using a Pilkington Planar™ facade.
The envelope consisted of clear SentryGlas®* silk-screened laminated glass panels using 40% fritted white dots on the #3 surface for the roof and vertical walls to assist with shading.  
Installed by Service Glass Industries, Inc., Pilkington Planar™ 905 series fittings were the hardware of choice to securely hold the walls and roof in place.  
This end result created a striking first appearance for the two-level enclosure, crisply reflecting the surrounding trees and buildings in the day while appearing well-lit for safety at night.
With over 120,000 square feet of space for retail, restaurants and service-oriented businesses, Reston Station is ready to become a shopping paradise for everyone from locals and commuters to tourists alike.
Add to it a backdrop of public art installations, and irresistible energy from concerts, festivals and outdoor events, and it's sure to be a thriving destination to visit.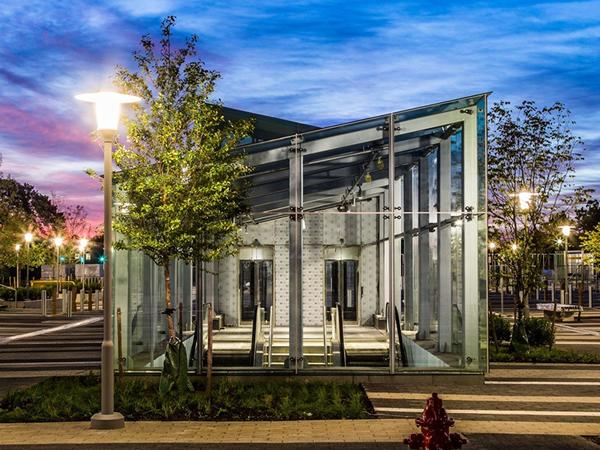 600
450
www.wwglass.com
2017-01-10T13:14:00
Reston Station Escalator Enclosure – Fairfax County
glassonweb.com