Photo source
www.pilkington.com
Pilkington has perfected its testing and rigour processes over many decades to ensure that its development of new products and technologies meets the highest possible standards.
Nowhere is this more the case than in our development of spacer bar and sealant technology for the Pilkington Planar™ system.
Used on some of the world's most impressive buildings, Pilkington Planar™ is a top performing structural glazing system that can be applied to a wide range of architectural purposes – from creating soaring facades, roofs and canopies, to cladding entire buildings. This market-leading system provides a flush glass surface by utilising stainless steel fittings housed in countersunk holes.
Naturally, most customers focus on the aesthetics of the Pilkington Planar™ system, or on the thermal and mechanical performance of the glazing. A lesser-known factor to consider is the performance of the insulated glass unit spacer bar and sealant technology – a crucial element for dealing with load-bearing pressures within a lightweight support structure.
New market demands
Indeed the demand from Pilkington's customers for more extravagant and experimental building designs has also raised expectations of what our Pilkington Planar™ system can do. For example, the drive among architects for larger panels and thicker substrates in their facades has resulted in increased weight and even more strain on the insulated glass units when in-situ.
Not only that, aesthetically-minded customers want more flexible and lighter weight support structures, such as highly transparent frameless glass solutions. As a result, in the absence of a fixed frame support, the insulated glass unit is required to deal with both external loads (such as strong winds and snow) and the impact of increased system movement due to this heightened flexibility.
Faced with such challenges we developed a patented spacer and sealant construction for use within the Pilkington Planar™ system. This technology has been tested rigorously in a huge variety of load-bearing scenarios to ensure its durability and performance in all conditions, including its ability to accommodate the increased movement capability of a frameless glazing system.
City Creek Center project
One project in which Pilkington worked to develop this solution was the City Creek Center in Salt Lake City, Utah – a mixed-use development that includes an open-air shopping centre, offices and residential buildings. 
This project had a cable net glazed structure as its centrepiece – a design which tends to be extremely flexible and which presented the challenge of how to deal with the load pressure placed on the corner glass panels that were rigidly fixed on two sides, with the opposite corner being fixed to the flexible cable structure. This could result in excessive twisting of the insulated glass unit under the design load, which had the potential to over-stress both the glass and unit seal. 
To tackle this challenge we built a mock-up test rig at our European Technical Centre in Lathom, Lancashire, which could simulate the corner panel conditions. This rigorous testing procedure was designed to see if the panel would perform as expected and to check the performance of the seals before and after testing. The Pilkington design team also developed some FEA (finite element analysis) modelling and assessment to ensure the physical test moved in the same way the actual cable wall structure would.
The results of this extensive testing and development work enabled Pilkington to manufacture glazed units that continue to perform to the highest possible standards of durability and functionality in every part of the City Creek Center facade today. In particular, the project underlined the importance of a little noticed and under-appreciated piece of glazing technology - the spacer bar and sealant technology used in the Pilkington Planar™ system.
As with all of our market-leading glass solutions, Pilkington's relentless drive to test and develop products with the utmost rigour helped us to achieve these innovations – and it is this approach that will ensure we remain at the forefront of facade development long into the future.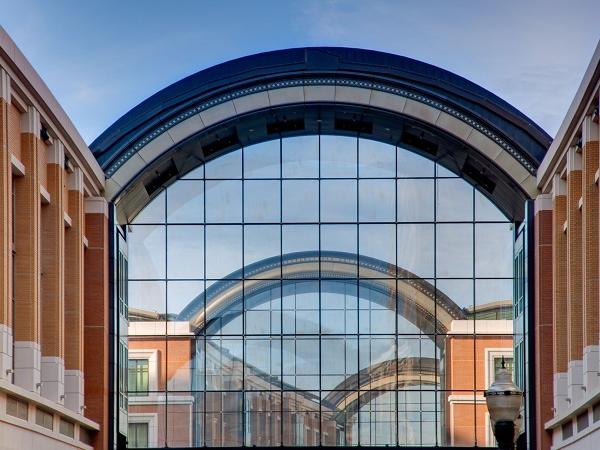 600
450
www.pilkington.com
2019-02-14T07:45:00
Pilkington: The rigorous testing behind our market-leading spacer bar and sealant technology
glassonweb.com