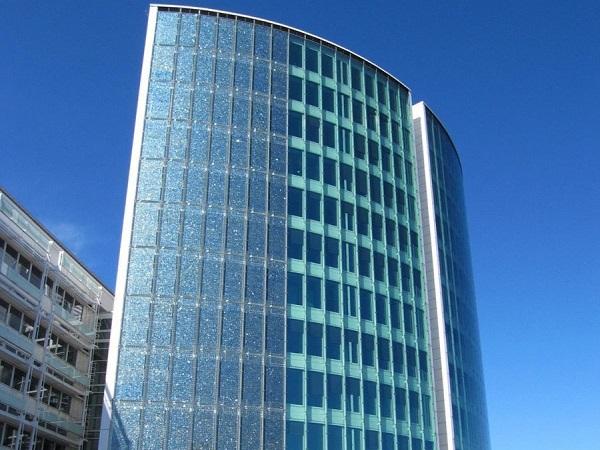 Photo source
www.pilkington.com
How Pilkington's approach to innovation transformed the headquarters of Alm. Brand.
At the heart of our approach to innovation is a belief that no challenge is too great – and no customer need is too complex – that we cannot find solutions that will break new ground.
That was the case with our renovation work for Danish financial services group Alm. Brand – a major transformation project which involved bringing new technology and innovative applications to its headquarters in Midtermolen, to the north of Copenhagen.
Rising from the quayside, the building looks every inch a new build to the modern day viewer, when in fact it was constructed in 1994. Its gleaming appearance and top performance across a number of measures is testament to the success of the renovation project , which had Pilkington Planar™ at its heart in combination with other modern technologies.
Pilkington Planar™ is a structural glazing system that provides a flush glass surface by utilising stainless steel fittings housed in countersunk holes. A number of other Pilkington innovations were incorporated and, by working in partnership with our customer, we delivered a building that is truly fit for the future.
New facade technology
Alm. Brand has a longstanding commitment to environmental responsibility and at the time of its original constriction, the facade of its headquarters was cutting edge in terms of energy management. Our role was to bring new, high-performing innovations to the facade, as the original 12mm toughened external skin of the double skin wall was replaced with a Pilkington Eclipse Advantage™ Blue-Green product.
Not only does this glass give a visually impressive contemporary feel to the facade, it also delivers significantly greater benefits in terms of both low-emissivity properties and solar control performance. That means the new facade allows the building to harvest incident solar energy, while simultaneously protecting the building's occupants from unwanted glare, solar gain or energy loss. In other words, our innovations provided both aesthetic and practical benefits to Alm. Brand and its employees.
Environmental upgrades
The biggest breakthrough during the project was the transformation of the building from a passive energy management system to active energy generation. In particular, the new facade boasts the first Pilkington Planar™ panels to incorporate Building Integrated PhotoVoltaics.
The 84 point-fixed BIPV panels, which cover just 10% of the new facade, have the potential to generate 41.5kW of electricity, or 5% of the overall building energy needs. The Alm. Brand team specifically selected the custom emerald green photovoltaic cells, and then challenged the Pilkington engineering and operations teams to develop the product from concept to a full-scale workable solution.
By significantly improving the building's environmental performance and energy generating capacity, this innovation demonstrated the extent to which customer collaboration can help to power important breakthroughs.
Resilience
The renovation also updated the building's mechanical performance by changing the glass type from a point-fixed toughened system to a point-fixed toughened laminate. This system is designed to stay in place within the facade even if all the glass components are broken. 
To deliver maximum cost saving alongside this upgrade, the original mullion system and fixing anchor points were re-used. This required the new Pilkington Planar™ panels to be equal in strength, size and weight to those in the original specification. Pilkington Planar™|SentryGlas® System was more than a match for the original technology, with two 6mm toughened glass panels laminated together with a 1.52 SentryGlas® interlayer.
This hugely ambitious project is a great example of how  our  approach to innovation can breathe new life into buildings, while also providing huge benefits for the customers that use them. Of course, the project was not without its challenges, but harnessing our market-leading approach to innovation was key to achieving success in partnership with our customer.
As Carsten Moller, Chief Architect at Alm. Brand, explained: "This project was a new area for me in terms of technical detail and specification. Working with the NSG Group was therefore a great help, not only because the glazing options they offered were one of the few that met our requirements, but also because the expertise and knowledge of the team ensured this unique project delivered the goals we set out to achieve."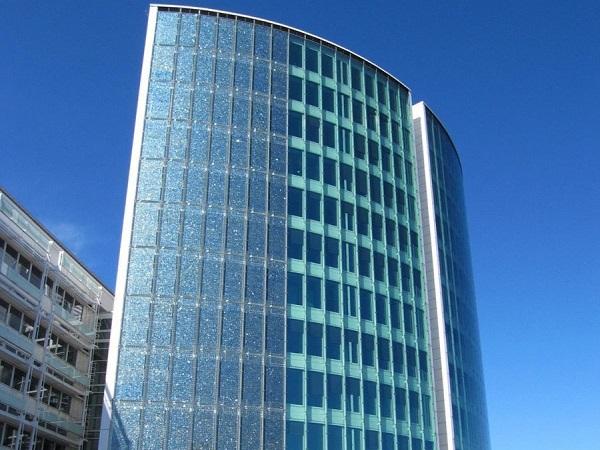 600
450
www.pilkington.com
2019-03-15T09:37:02
Pilkington: How our approach to innovation transformed the headquarters of Alm. Brand
glassonweb.com