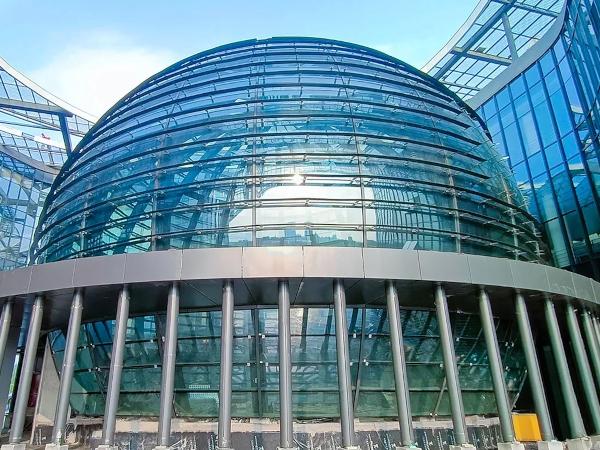 Qingyuan Science and Technology Museum adopts all-super white SGP laminated composite insulating glass. The center of the venue is a huge glass sphere. The hyperbolic glass is made by Luoyang NorthGlass.
The project of Qingyuan Science and Technology Museum and Youth Activity Center is the future new cultural landmark of Qingyuan key planning. This project mainly includes Science and Technology Museum and Youth Activity Center, with a total construction area of 50,000 square meters, and a large number of internal multi-curved glass with complex structure are made of NorthGlass (stock code: 002613).
The entrance of the Science and Technology Museum is located in the center of the whole venue, and it is full of science and technology. 597 pieces of double silver Low-E tempered laminated composite insulating glass constitute a huge sphere with a diameter of 24.6 meters. NorthGlass uses the self-developed curved tempered forming technology to create a perfect edge arc curve, which is extremely accurate for arc accuracy and differential control.
The all-glass sightseeing elevator is made of special saddle-shaped hyperbolic glass with high technology. The size of each piece of glass is different with great curvature, which perfectly reflects the manufacturing technology level of NorthGlass. The composite multi-curved glass of this project is all ordered by 3D model, which is different from the traditional ordering mode and accurately extracts the specifications of glass with different shapes of each piece.
Qingyuan Science and Technology Museum and Youth Activity Center create an open and free curved beauty inside the building. NorthGlass always uphold the spirit of craftsmanship, with the greatest sincerity and strong strength to provide the majority of users with ideal products and perfect services.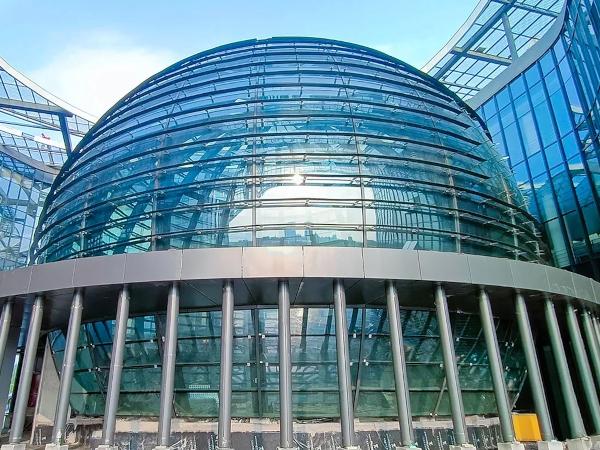 600
450
NorthGlass
2022-12-23T17:00:00
NorthGlass hyperbolic glass lit up the star of Qingyuan Science and Technology Museum
glassonweb.com