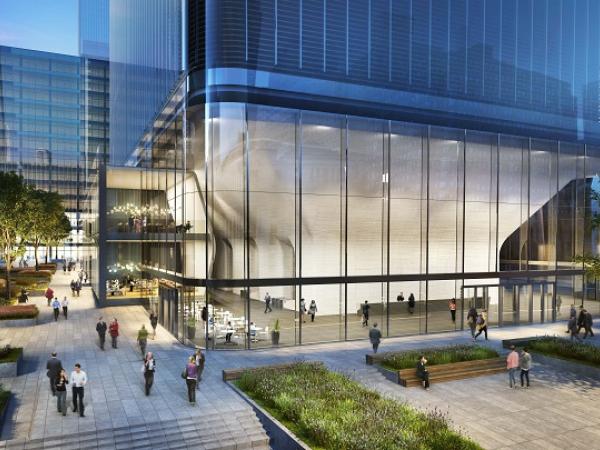 One of New York City's newest residential skyscrapers is rising at the Manhattan West development. 
While the impact of the all glass building will be awe-inspiring, the designers know how important the amenities and proximity to offices, shopping, entertainment, public transportation, and restaurants will be for this new development. 
There will be all of this and more at Manhattan West.
Commissioned by Brookfield Property Partners, the $4.5 billion development will include two new office towers, a residential tower (Three Manhattan West), a renovated office building (renamed Five Manhattan West), 200,000-square-feet of retail space, a boutique six-star hotel, health and fitness facilities, rooftop gardens, restaurants, and a 2-acre public park. The new towers are being built on a new platform over the West Side Yard along Ninth Avenue. The development is close to the new Hudson Yards neighborhood between 31st and 33rd streets within a five minute walk to Penn Station and Madison Square Garden. The development is expected to be complete by 2020.
Photo Credit: www.worldofarchi.com
Brookfield broke ground on the project in late 2012. The entire construction rests on a 2.6-acre state-of-the-art foundation positioned over the existing railroad track, completed in 2014. The office towers—the taller of which will measure 67 stories (995 feet)—will each possess a single-angled facade and rounded corners. Inside, column-free floor plates will offer resident corporations a modern and efficient workplace, capable of adapting to their individual needs.
Spanning 16 stories, the 1.7-million-square-foot renovated structure—soon to be called "Five Manhattan West"—will stand fully clad in a new jagged glass exterior designed by New York-based REX Architecture by year's end.
The Southwest residential tower, Three Manhattan West, is located at 401 West 31st Street. The project broke ground in December 2014 and is due to be completed in late 2017. This mammoth structure will stand 62 stories and 702 feet tall, housing 844 rental apartment units.
Photo Credit: http://brookfieldofficeproperties.com/
SOM, the same architectural firm behind One World Trade Center, is the design architect on this massive development.  For Three Manhattan West, SLCE, the architect of record, is working with Hunter Roberts Construction Group to build the project. They looked to W&W Glass, due to their expertise on these type of installations, to provide a Sotawall® Hybrid-Wall® unitized facade system to clad the building. Progress is moving along swiftly as the building has over half of the curtain wall installed already.
Photo Credit: http://brookfieldofficeproperties.com/
W&W Glass was also recently awarded the lobby podium on the Manhattan West North Tower (One Manhattan West) by Tishman Construction. They were awarded the project based on their extensive engineering and installation capabilities along with their benchmark for quality on another custom structural glass fin wall system installed at World Financial Center at Brookfield Place (a Brookfield-owned project). The SOM design features an expansive 45-foot-tall structural glass wall with 10-foot-wide modules. The wall will feature an outward slope on the East elevation and will be entirely supported by one-piece laminated glass fins on the interior. W&W Glass professionals are engineering a fully custom structural glass system with 45-foot-tall one-piece laminated glass fins and multi-ply laminated face glass. For strength and security, the glass will be bonded to the fins with structural silicone to customized stainless steel adaptors for a minimal visual appearance. There will also be curved laminated glass corners at two ends of the building. The structural glass will be manufactured in Europe using some of the best fabrication technology in the world, thereby maintaining the highest quality in oversized glass flatness to greatly reduce visual distortion.
Photo Credit: http://brookfieldofficeproperties.com/
Stay tuned for more updates on these two exciting projects and others in the future at wwglass.com.
W&W Glass LLC is a family owned business with a 70-year history in the metal and glass industry, one of the largest metal and glass companies in the New York metropolitan area and the largest supplier of structural glass systems in the country. We have over two decades of experience in the design and installation of various building enclosure systems, including stick-built curtain walls, pre-glazed unitized curtain walls, Pilkington Planar™ structural glass facades, and custom metal and glass enclosure systems. We install all of our work with our own dedicated union labor force. W&W is consistently the largest employer of glaziers in the NY metropolitan area.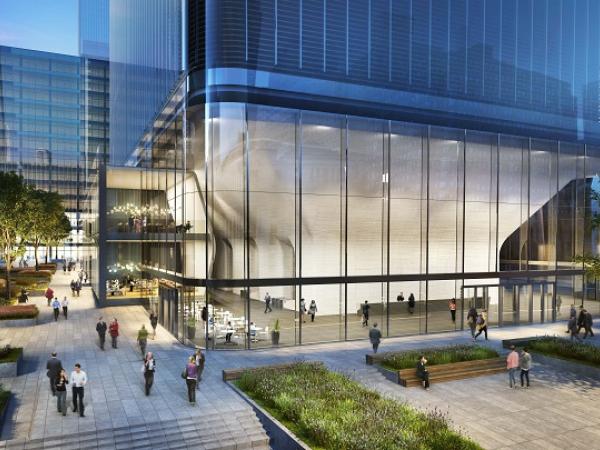 600
450
www.wwglass.com
2016-06-24T13:00:00
Manhattan West Rises
glassonweb.com