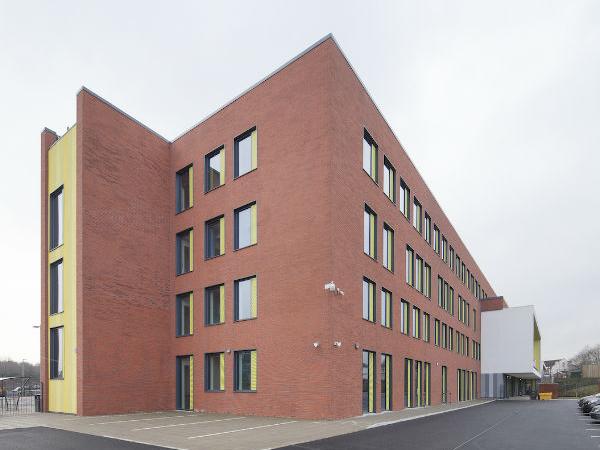 Photo source
www.technal.com
An elongated, non-standard size, brick slip system creates the basic building envelope and is dominated by Technal-glazed features using 1,500m² of the company's MX visible grid curtain walling, FXi 65 windows and CD commercial doors.
In answer to a daylight, ventilation and health and safety conundrum, the design team for a new 21st century academy in Sheffield has used Technal's aluminium systems to create an innovative, multipurpose architectural highlight that features across the Academy's stunning facade; a standardised detail that will doubtless be used in future educational settings.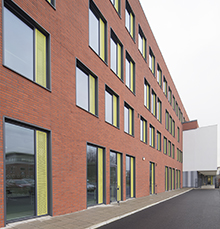 The £15 million Academy, which helps tackle a demographic need for more academy places, has been built on the site of Sheffield's former Don Valley athletics stadium.
The new Oasis Academy Don Valley - an all-through academy - provides modern, state-of-the-art learning spaces for 1,200 students aged from two to 16.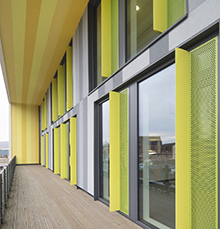 Designed by Bond Bryan Architects and constructed by BAM Construction Ltd - North East, the single building covers an internal floor area of 8,061m² and features a two-storey nursery and primary academy, a four-storey secondary academy and a central hub that brings the two together, additionally incorporating facilities for community use.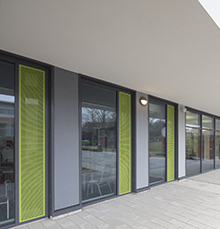 Addressing the key objectives of function and affordability, the basic design of the building is standardised based on modular sections.
An elongated, non-standard size, brick slip system creates the basic building envelope and is dominated by Technal-glazed features using 1,500m² of the company's MX visible grid curtain walling, FXi 65 windows and CD commercial doors, maximising natural daylight throughout the Academy buildings.
Bond Bryan Project Technical, Peter Severn, explains what steered the Academy's design: "Intelligent layout has driven the design of the more interesting architectural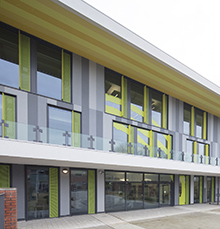 features such as the striking dining pod that projects above the main entrance. Here, we've used Technal's curtain walling and doors to create large glazed panels and double door arrangements that provide both access to a terrace area and an essential fire escape route."
He goes on to talk about the inspiration behind the innovative, repetitive detailing across the Academy's elevations that creates its distinctive look: "The Education Funding Agency's strict Facilities Output Specification demands high levels of daylighting and natural ventilation, and the fact that schools often want to incorporate blinds can sometimes result in conflict. Blinds are prone to obstructing the opening of windows and tend to flap around causing distraction and posing a health and safety hazard and in a lot of cases, prevent the proper use of the opening lights.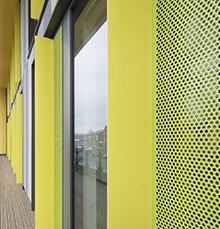 "Collaboration across the design and sub contractor team resulted in a standardised solution that we plan to use for future school specifications. It ensures health and safety requirements are met, delivers a clever solar shading solution and adds the visual architectural interest that really makes the building. Technal's range of systems offered the quality product that allowed the team to realise this unique design. The systems have worked and performed well and we would not hesitate to specify Technal on future projects."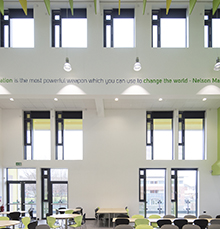 Finished in RAL 7015, a slightly lighter shade than anthracite, Technal curtain walling has been used to create large fixed glazed sections, meeting the daylighting requirement.
In addition, different sized Technal FXi 65 windows are glazed into the curtain wall. At waist height a side-hung opener allows the window to open like a door, whilst at the top there is a smaller square bottom hung open-in window, fulfilling the opening and ventilation requirement.
Overcoming the health and safety issues, the openable windows sit behind a bright yellow or green, laser cut aluminium powder coated mesh tray, which is welded into the Technal system, providing safe ventilation.
The secondary academy side of the building features a standard RAL yellow whilst a bright green was used for the nursery and primary elements; the two colours blend in the centre where the community facilities meet.
Protruding vertical aerofoil mullion face caps were also used in the community areas finished in the same yellow to provide an element of interest to the elevation.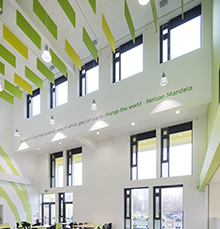 Technal's MX curtain walling has also been used as bespoke canopy glazing to create covered walkways and a protected external play area for the Academy's nursery and primary areas, which also allows light to flood into the classrooms behind.
At the Academy's main entrance, Technal CD Commercial doors, which are suited to high traffic usage areas, have been installed. Powder coated to a mid grey, the doors are automated with full access control.
All of the Technal systems have been fabricated and installed by Dortech, who worked closely with BAM's design team to achieve the exacting requirements for this interesting architectural design, as managing director James Sutherland explains: "The Technal systems enabled us to ensure the initial design outlined was brought to life with optimum results, not just from a thermal performance perspective but meeting the daylight, ventilation and health and safety requirements too, without compromising aesthetics. It was a challenge but the outcome speaks for itself."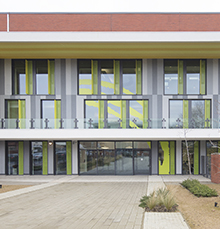 Commenting on the building's construction Ben Robinson, Senior Project Surveyor at BAM Construction Ltd - North East, said: "The scheme is rated Very Good through sustainability initiative BREEAM and, satisfying multiple roles, the Technal systems played a part in achieving this. Also, the systems were used cleverly to minimise installation time on site for what was a particularly tight build programme."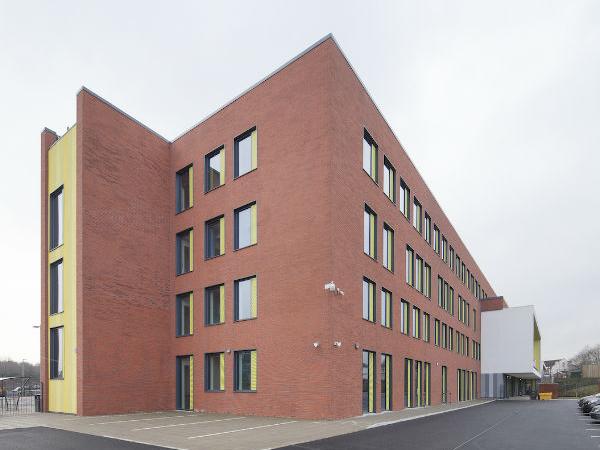 600
450
www.technal.com
2017-06-16T09:00:00
Innovative use of Technal systems for stunning Sheffield Academy
glassonweb.com