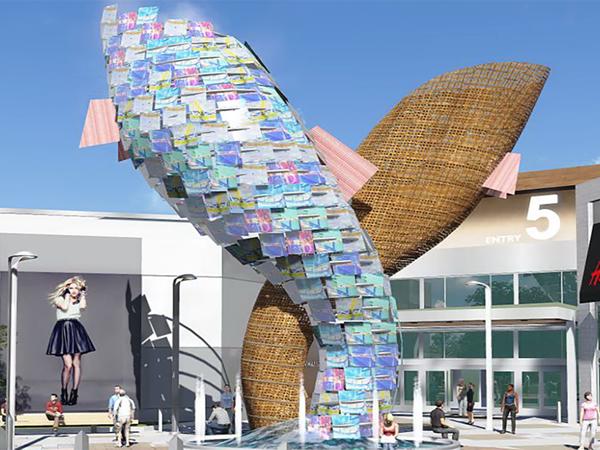 Photo source
www.goldrayglass.com
"The dichroic glass provides a very dynamic and changing skin of light and color that we were looking for." - Jeremy Gascho, Senior Associate, JPRA Design.
Built to provide visitors with an unparalleled experience, Tsawwassen Mills combines shopping, dining, and entertainment into one space.
Located just south of Vancouver on the Tsawwassen First Nation's land, the project is the result of a partnership between the developer, Ivanhoe Cambridge and the people of the Tsawwassen First Nation.
This strong partnership had a great influence on the mall's design, as developers worked closely with Tsawwassen artisans to incorporate culturally significant artwork and decor throughout the space.
With over 180 retail stores and 1.2 million square feet of retail space, it was important for the developers to make user experience and navigation a priority.
To aid wayfinding, the interior space is divided into five distinct shopping neighbourhoods – Fashion, Outdoor Life, Coast Salish, City, and Nature, each with its own custom design and décor.
On the building's exterior, the six public entrances are clearly numbered and each features a prominent public art piece which acts as a landmark.

One of the most unique public art pieces at Tsawwassen Mills is the Fish Icon sculpture that greets visitors as they enter the Coast Salish Neighbourhood. The sculpture represents two leaping salmon and holds cultural significance as salmon and traditional fishing are deeply tied to the Coast Salish identity and community.
The public art piece is the result of a collaboration between two visionary artists/architectural designers from JPRA Design, Jeremy Gascho and the late Ken Zawislak.
In developing the design, the artists wanted to achieve the look and feel of movement "The fish shapes are meant to be very active and dynamic as if they are leaping out of the water, wrapping around each other. At the base of the sculpture is a fountain with cascading water and a pool that reflects the light and color of the fish" says Jeremy Gascho, Senior Associate at JPRA.
To bring their innovative design idea to life, the artists selected contemporary materials. The woven bronze metal is symbolic of the historical Coast Salish woven baskets. The second fish is comprised of over 240 dichroic glass panels, designed to represent fish scales.
Dichroic glass was an ideal material to achieve their vision as Jeremy notes "the dichroic glass provides a very dynamic and changing skin of light and color that we were looking for. Additionally, the transparent quality of the material allowed the inner structure, or bones, of the fish to be displayed".
Goldray Glass worked closely with the Custom Fabricator, Heavy Industries to develop several glass samples before the project was installed to ensure the dichroic glass panels provided the desired color and light diffusion.
Once installed, the result is stunning, as this colorful landmark greets visitors in an iconic and memorable way.
Project Details
Location: Delta, BC
Application: Exterior Glazing, Public Art
Market/Industry: Public Works
Type of Glass: Dichroic Laminated Glass
Our Team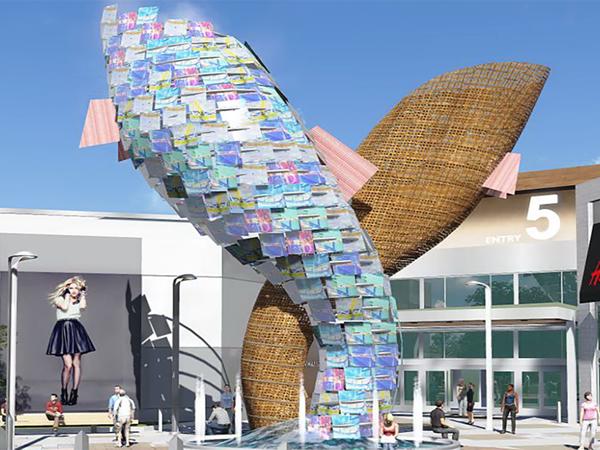 600
450
www.goldrayglass.com
2017-09-05T11:20:00
Goldray Glass Project: Tsawwassen Mills
glassonweb.com