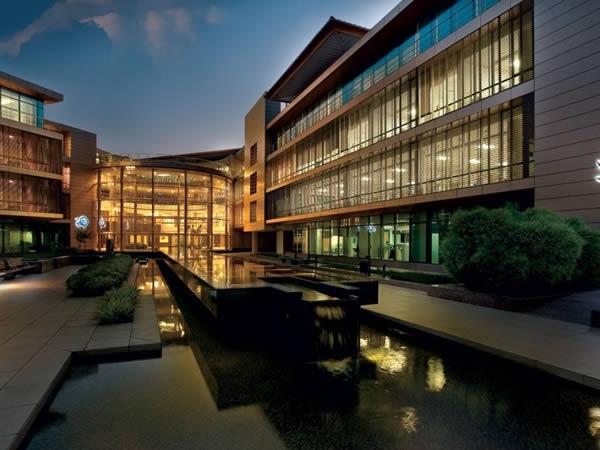 Photo source
Saint-Gobain Glass at Suzlon One Earth, Pune | Photo: architecture.in.saint-gobain-glass.com
Welcome to one of the greenest corporate campuses in the world. Welcome to Suzlon One Earth, Pune, a LEED Platinum and GRIHA 5 Star certified building.
Welcome to a corporate that is living its vision of 'powering a greener tomorrow'. Welcome to one of the greenest corporate campuses in the world.
Welcome to Suzlon One Earth, Pune, a LEED Platinum and GRIHA 5 Star certified building. It is where the concept of 'going green' comes alive, it is where glass for green buildings makes the loudest impact.
It is where Team Suzlon comes together from all over the world to work together for a greener tomorrow, today.
Suzlon One Earth is the corporate headquarters of Suzlon Energy Limited. The campus houses employees, members of senior management and the Board of Directors in its individual buildings named after elements of Nature – Sun, Aqua, Sky, Tree – and SEA (Suzlon Excellence Academy) lounges.
Sprawled over 10 acres, a million sq.ft. of ground plus two levels have achieved the LEED certification for Suzlon One Earth, with 8 percent of its annual energy generated on-site through photovoltaic panels and windmills with a total incremental cost of about 11%.
It is pitted to be a Zero Energy Project with 154 KW of electricity produced on site (80% wind and 20% photovoltaic), all other energy (4MW) produced in the client's windmill farms and 92% (4 MW) being consumed by the project as 'sustainable energy'.
There are no other LEED certified buildings with the level of certification and on-site renewable energy that have achieved the kind of cost-efficiency that Suzlon One Earth has.
Saint-Gobain Glass, with its expertise in glass for green buildings, has provided glazing solutions that add to the energy-efficiency of Suzlon One Earth.
Drawing inspiration from Indian vernacular architecture, including the likes of Fatehpur Sikri and Madurai Meenakshi Temple, the Suzlon One Earth campus is one that is made in India, and made for India.
Principal architect Christopher Charles Benninger has made sure that the building would deviate from the prevalent glass box structures and inspire a new architectural sensibility in the Indian landscape.
Glass has extensively been used in the project and it is Saint-Gobain's exclusive glass for green buildings which has ensured that 75% of the work stations enjoy natural daylight and external views.
SGG NANO Olive (KTT 455) is the glass solution from Saint-Gobain that has glazed Suzlon One Earth. The shade of green that has been used – Olive – has literally ensured the building to be a green one.
SGG NANO is a high performance coated glass with advanced energy-efficient solar control and thermal insulation (low E) properties. It is ideal for modern architecture which demands exterior glazing solutions with a neutral appearance.
This glass for green buildings goes a long way in helping reduce energy consumption. It is best known for its compliance with LEED, TERI GRIHA and ECBC norms.
Suzlon One Earth is a reminder about the one Earth that we have. It is about powering it with energy-efficiency, with sustainable and sensible solutions where countries do not replicate each other's architecture, but rather create their own.
It is about incorporating resource-efficient materials, like using glass for green buildings, so we can look forward to a promising future, and not just reflect on a glorious past.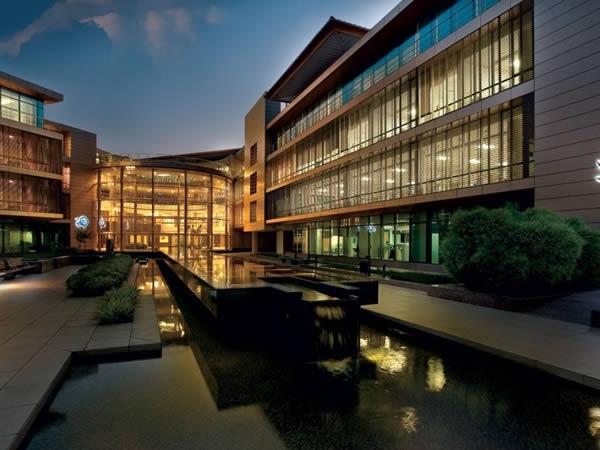 600
450
architecture.in.saint-gobain-glass.com
2016-09-28T08:49:00
Glass for Green Buildings
glassonweb.com