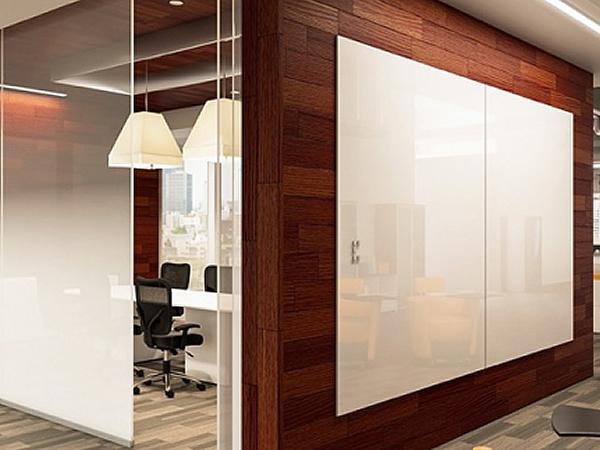 Designed to meet the growing demands of workplace functionality and open office collaboration, our innovative contract products can be combined and coordinated with transparent, graphic and opaque finishes.
The open office floor plan is here to stay whether you like it or not. Offices large and small are tearing down walls and replacing them with large communal spaces and breakout rooms.
While there is no "perfect" layout or design for an open office, as it depends heavily on individual client needs, there are rules that designers and facility managers should follow when outfitting these types of spaces. 
One of the most important rules is to foster a collaborative environment where employees feel comfortable and well prepared for breakout and planning sessions, spontaneous meetings and everything in between.
Collaborative environments in an open office concept often  have challenges, primarily noise and visual distractions from other workers. However, by providing employees functional, inviting and convenient opportunities to work and share, you can create a workplace that actually works. Throw in a little privacy from screens and partitions and you've gone the extra mile.
CARVART provides specifiers with a variety of contract and architectural glass products to achieve this collaborative effect. From our new glassBOARDS, Sliding Track, debuting at our Chicago Studio during NeoCon 2017, to Confer Movable glassSCREENS, glassTOPS, glassWALLCLAD and glassTACKBOARDS, we have the tools you need to create writeable, magnetic and moveable surfaces with a high degree of function and sophistication.
Mix & Match for a Coordinated Design Aesthetic
Designed to meet the growing demands of workplace functionality and open office collaboration, our innovative contract products can be combined and coordinated with transparent, graphic and opaque finishes.
Easily mixed and matched, they create open interiors that are flexible and responsive while encouraging social interaction and group collaboration. This is taken to a new level with glassBOARDS, Confer Movable glassSCREENS and glassWALLCLAD – all of which will be on display in our Chicago Studio during NeoCon 2017.
When a presentation space demands a high degree of function and sophistication, glassBOARDS, Sliding Track provide a multitude of options to the presenter. 
This Sliding Track system allows multiple glass panels to slide easily in one-direction from the side or in two directions to the center, so numerous glassBOARDS can be used simultaneously or are available to hide sensitive information on a rear panel.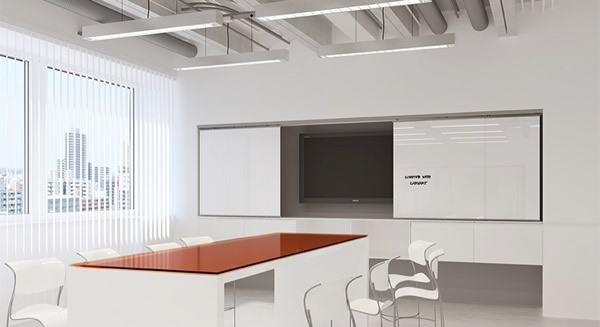 Users can post visual materials on Magnetic panels and just slide them away during a meeting. glassBOARDS, Sliding Track can mount within an enclosed room cavity or simply hang from a soffit above to add appeal and versatility to your conference rooms. Offered in a variety of colors and sizes, this solution is an upscale design for facilities looking for progressive innovation.
CARVART's glassBOARDS are freestanding, surface-mounted writeable and erasable glass boards. The writeable glass surface is offered as magnetic or non-magnetic.
Many interior projects, especially in the business sector, can be enhanced with CARVART's versatile markerboards. The boards can be finished with low-profile anodized or painted aluminum frames or come in floating and frameless options.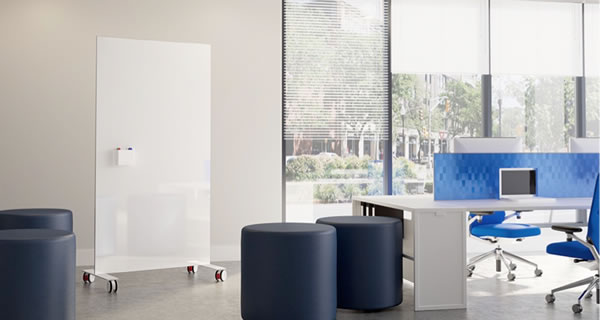 Combining contemporary design with personal flexibility, Confer Movable glassSCREENS debut during NeoCon with an ultra-sleek minimal profile base and frame design.
From CARVART's Contract product line, Confer is flexible in a narrow size to accommodate small meeting rooms or impromptu meeting spaces while larger models can travel between an open plan area and conference room.
Confer is available in a broad range of glass and frame finishes to match or provide contrast. Most importantly, Confer glassSCREENS blend seamlessly with all the other CARVART interior products.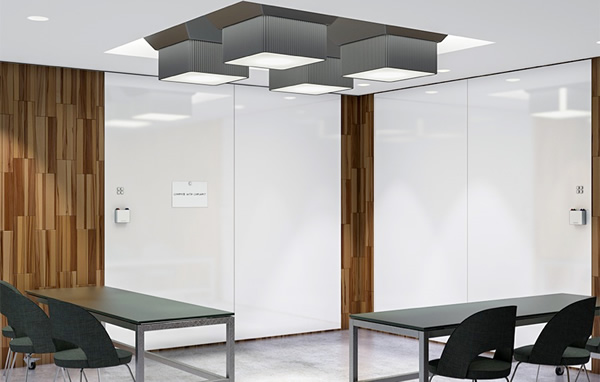 The prominence of using markerglass as wallcladding has continued to grow and evolve as companies seek new ways of working and improving teamwork. CARVART's glassWALLCLAD full-height solution allows the ability for interior walls to be covered from top-to-bottom, enhancing meeting spaces for optimal use from brainstorming ideas to posting documents.
A Variety of Surfaces and Finishes to Meet Your Needs­
CARVART contract products come in three distinct surfaces and a variety of finishes to meet your individual design and functionality needs.
Smooth (S) is the most common characteristic of clear glass, prominent in all aspects of everyday life. WriteEtch (W) is an innovative surface that resists stains and is non-reflective.
The surface is slightly-abraded which results in a softer, uniform frosted appearance. Etch (E) is a smudge-proof glass surface that is slightly-abraded and allows for a high degree of light transmission. Its pleasant diffusing of light and imaging through the glass can aid privacy in environments.
Both Smooth and WriteEtch are writable with erasable markers, however Etch is a non-writable finish with a frosted appearance. Regardless of the finish, contract products can be used in both horizontal and vertical applications, are non-oil absorbing and will clean easily with common glass cleaners, cuting down on maintenance and cleaning costs.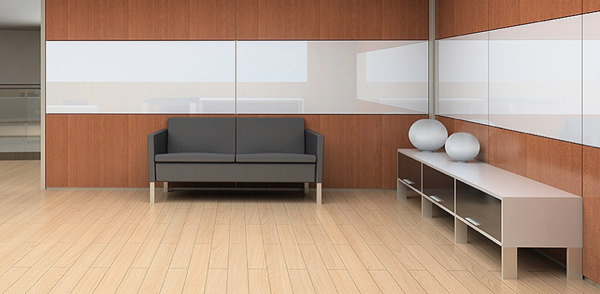 In addition to three surface options, CARVART contract products are avilable in over 100 finishes. Transpartent glass in a variety of temperatures can be mixed and watched with various colors of opaque glass depending on specific design needs.
In addition, there are a variety of patterns, wood and textile finishes available. Mirror and hardware selections make it possible to further customize your installation.
Experience CARVART at NeoCon 2017
CARVART is proud to announce the debut of our first-ever Chicago Studio, which will coincide with the start of NeoCon 2017. Located in the historic Merchandise Mart (Suite 11-136) on the banks of the Chicago River, the studio represents our design-forward approach in one of America's leading design cities.
For those attending the show, we invite you to tour the space from June 12-14 and attend a special cocktail reception on Monday, June 12th between 3-6pm. Regular business hours will be announced at a later date and will start at the conclusion of NeoCon.
Learn More and Explore our Brand
Whether you're new to CARVART or rediscovering our brand for the second time, we invite you to visit our Manhattan Studio & Headquarters or Chicago Studio and see our line of architectural and contract glass solutions for yourself. Each showroom is a cohesive, branded experience that is a testament of our love for glass. We look forward to sharing it with you.
To learn more about the latest products and projects as well as learn more about our capabilities and our project design services, visit the new CARVART.com.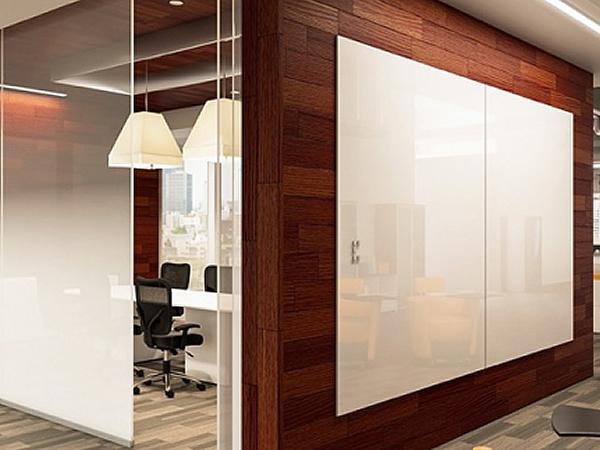 600
450
carvart.com
2017-06-09T12:30:00
Foster Open Office Collaboration with CARVART Contract
glassonweb.com