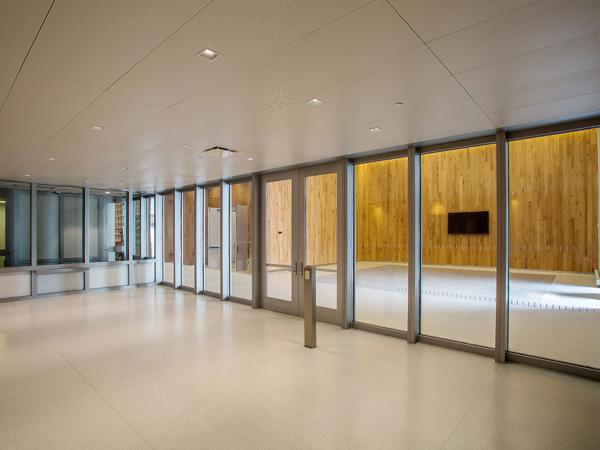 Photo source
www.safti.com
A building's design is very much influenced by the function it performs and the perceived threats that it may face with the latter being a foremost concern for federal courthouses, embassies, government facilities and other high profile buildings.
For these types of facilities, building materials are chosen based on their ability to mitigate or minimize the injuries and fatalities to occupants during an attack. Because of these security concerns, trade-offs have been made when it comes to daylighting, energy efficiency and aesthetics to name a few.
The good news is that today, high-performance security glazing make-ups are available in the market place to meet the level of protection needed while continuing to provide natural light and a feeling of openness. These specialized systems can also blend with the surroundings seamlessly to enhance the building's overall design.
The 1995 bombing of the A.P. Murrah Federal Building on Oklahoma City revealed the devastating effects of high velocity glass fragments on people in the building or those in the vicinity when a blast occurs. This prompted the General Services Administration (GSA) to establish a blast criteria for all glazing used in federal buildings, which was later on adopted by the Interagency Security Committee (ISC) to broaden its use. Part of its approach is to quantify glass failure not in terms of whether breakage occurs, but rather the hazard it causes to occupants1. Today, the ISC Security Design Criteria Blast Protection Levels for Windows is the most widely recognized classification of design levels for glazing hazard protection2:
But what happens when the same blast rated glazing system must also meet 2-hour fire resistive requirements, as well as deliver maximum transparency and seamlessly blend with the existing non-rated systems?
Such was the case with a public safety facility located in the east coast of the United States. The glass wall between the secure entrance and main lobby had to meet both ASTM E-119/NFPA 251 for 2 hours with hose stream as well as Performance Condition 2 of the ISC Security Design Criteria Blast Protection Levels for Windows. Additionally, the assembly had to meet the requirements in UFC 3-340-02, Structures to Resist the Effects of Accidental Explosions, UFC 4-020-01, Department of Defense Security Engineering Facilities Planning Manual and UFC 4-010-01, Department of Defense Minimum Anti-Terrorism Standards for Buildings. There was also an adjacent glass wall by the security officer's desk that had to meet ASTM E-119/NFPA 251 for 2 hours and UL 752 Level 4 Ballistic.
Given the strict requirements of this project, SAFTI FIRST submitted a certified blast engineering report to the building team for the fire resistive, blast rated system, as well as provide a visual mock-up the assembly. To achieve the level of fire and blast resistance needed, SAFTI FIRST provided SuperLite II-XL 120 with Heat Strengthened Laminated Glass that met the Performance 2 criteria. It was supplied with the GPX Blast Framing System with a custom designed anchoring system. SAFTI FIRST worked with the design team and blast consultant to ensure that the entire assembly worked with the surrounding structure to meet the required blast performance.
For the fire and ballistic rated system, SAFTI FIRST provided SuperLite II-XL 120 with Level 4 Ballistic Glazing. Some of these panels included an obscure spandrel for areas that needed additional privacy. It was supplied with the GPX Ballistic Framing System to ensure that the entire assembly was compliant.
Since maximum transparency and vision were important design requirements, all the SuperLite II-XL fire resistive blast and fire resistive ballistic glazed assemblies utilized Starphire Low-Iron glass for an ultra-clear appearance despite the robust glass make-up. The GPX Blast and GPX Ballistic Framing systems matched the clean, sharp sightlines and finish of the non-rated systems for a uniform look. Both framing systems were supplied pre-welded and pre-assembled in sections for ease of installation.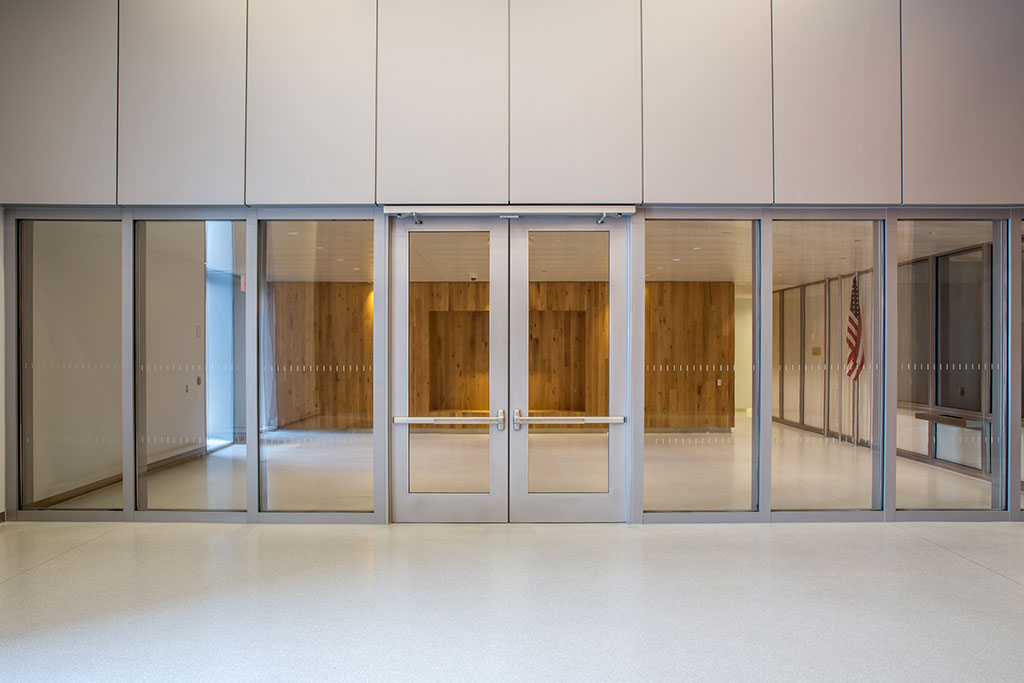 The building also benefited from SuperLite II-XL 120's large clear view areas, with individual panels just under 4,876 sq. inches, which is SuperLite II-XL 120's maximum clear view area and the largest available at that time (SAFTI FIRST's SuperLite II-XLB product currently has a largest clear view area at 7,980 square inches).
SAFTI FIRST also provided the large, 10-foot, 90 minute fire resistive pair doors in the glazed assembly. They were supplied with custom hardware that was compatible with the specified card reader to ensure secure access to the building.
 
The result is a beautiful and elegant glass wall and entrance system that greets building occupants as they enter and leave the facility during work hours, and would protect them from fire, blast or ballistic threats should it occur.
Project: Public Safety Facility in the East Coast
Architect: Skidmore Owings & Merrill
Glazing Contractor: W&W, LLC
Blast Consultant: Weidlinger Associates
Products: Fire Resistive/Blast Rated System with SuperLite II-XL 120 in GPX Blast Framing and Fire Resistive/Ballistic Rated System with SuperLite II-XL 120 in GPX Ballistic Framing.
# # #
References:
1 Eve Hinman, P.E. "Blast Safety of the Building Envelope," Whole Building Design Guide, (October 19, 2011).
2 Joseph L. Smith, P.S.P. and Nancy A. Renfroe, P.S.P., "Glazing Hazard Mitigation," Whole Building Design Guide (July 23, 2010).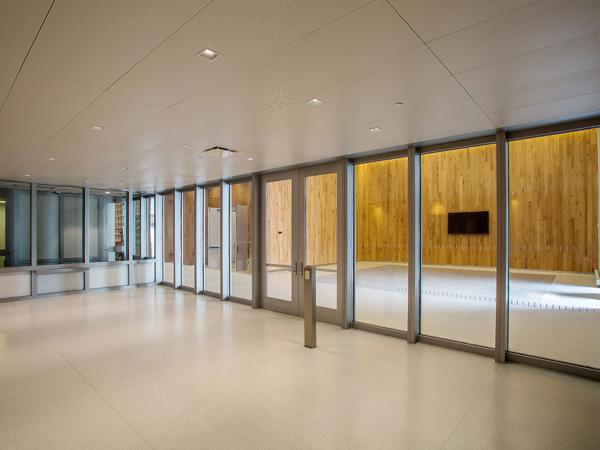 600
450
www.safti.com
2016-06-17T13:00:00
Fire Resistive Blast and Ballistic Glass Walls in High Security Facilities
glassonweb.com