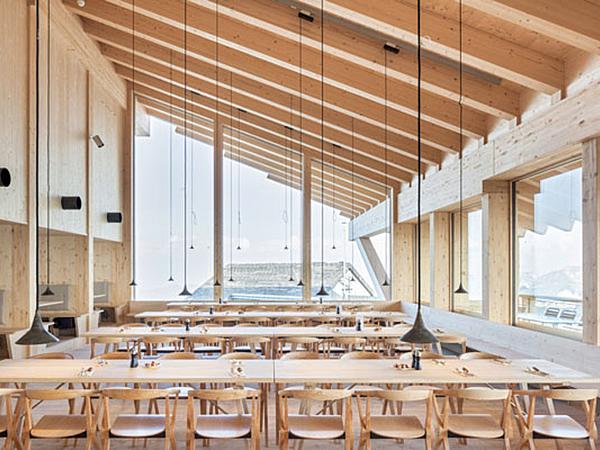 Photo source
Jürgen Pollak
Contemporary façade glass elements not only enable bright and light-flooded rooms, but also reveal a breathtaking view of the mountain landscape.
The summit restaurant on the Chäserrugg in the Canton of St. Gallen, which was designed by Herzog & de Meuron, impresses by the perfect blend of traditional wooden construction and generously proportioned glass elements.
Here, contemporary façade glass elements not only enable bright and light-flooded rooms, but also reveal a breathtaking view of the mountain landscape.
It was a major ambition of the building owners to create a building that is not dependent on the extreme weather conditions in the alpine regions, but one that enables the summit to be experienced no matter what the weather.
Glass extends the creative scope here and makes the planning of modern architecture possible even in regions with extreme climatic conditions.
Due to their exposed location, summit buildings and mountain huts allow a fascinating view overlooking the mountain scenery.
Large window elements inside the building also offer a panoramic view and create the best possible preconditions for successful use for tourism.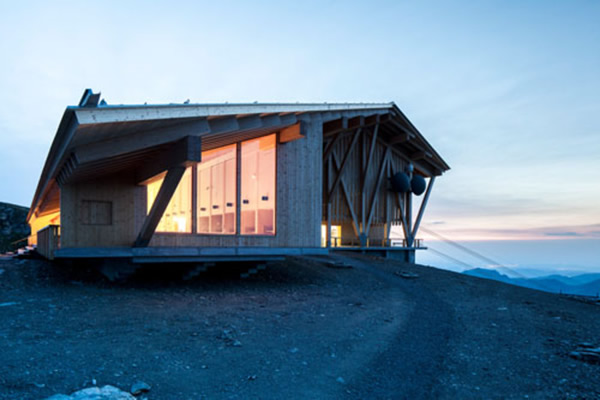 The planners use the extra-white EUROWHITE NG from EUROGLAS as the basic glass for the summit restaurant on the Chäserugg for the provision of unimpaired viewing conditions:
Due to its extremely high light transmission of 74 percent in triple pane construction and its excellent colour rendering index of 97, it offers maximum transparency, thus guaranteeing an outstanding clarity of view.
The low reflection of the glass also contributes to the fact that the mountain landscape can be enjoyed inside the building.
The use of EUROWHITE NG enables a degree of reflection of only 14 percent to be achieved, which reduces any disturbing reflections on the glass to an absolute minimum.
The low reflection is also of great benefit for animal welfare: without reflections, birds can see objects behind the glass and classify them as uninteresting.
Triple insulating glass with the highest possible level of thermal insulation was selected to ensure that even in extreme weather conditions, the summit restaurant Chäserrugg always maintains a cosy atmosphere.
The summit building is exposed to only a low level of solar irradiation, as the windows facing south are protected by a widely cantilevered roof and the panes on the sides of the building with a height of up to six metres are arranged towards the east and west.
Therefore, triple insulation glazing with the SILVERSTAR ZERO Eplus coating from Glas Trösch was installed. The heat insulation coating with Ug value of 0.6 W/m2K ensures a pleasant indoor climate and reduces heating costs due to the low heat loss.
At the same time, the insulating glass still allows plenty of natural light to enter the rooms thanks to the use of EUROWHITE NG as the basic glass.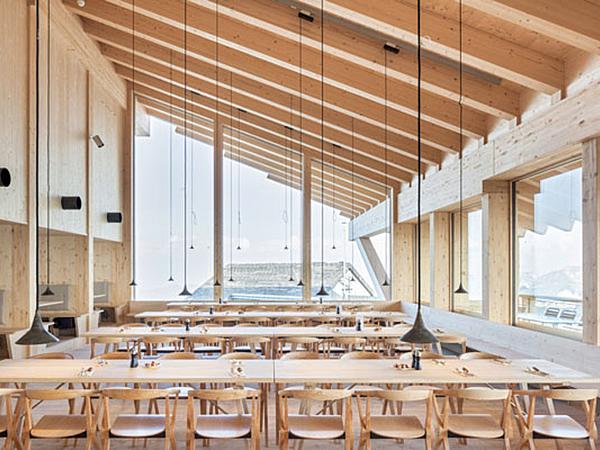 600
450
www.glastroesch.com
2017-01-10T08:50:00
EUROWHITE NG provides a lot of transparency in the summit restaurant Chäserrugg
glassonweb.com