Wausau, Wis. — In September 2010, the Air National Guard (ANG) dedicated its new Readiness Center building at Joint Base Andrews to a former ANG director, Maj.
Gen. Donald Shepperd. Now known as Shepperd Hall, the four-story, $52 million project features a blast hazard mitigating curtainwall system offering the ANG a secure, centralized command, as well as energy efficiency and operational efficiency.
Shepperd Hall's performance features meet the requirements of the 2005 Base Realignment and Closure (BRAC) Act. They also are intended to aid in its pursuit of a Silver certification from the U.S. Green Building Council's LEED® Rating System. With respect to the building's achievements, current ANG director, Lt. Gen. Harry Wyatt, said, "It's environmentally-friendly and extremely pleasant to look at."
DMJM Architects and Engineers, now part of AECOM, provided program management, master planning, architectural design, structural engineering, and LEED consultation and commissioning for Shepperd Hall. The project was designed using Autodesk® Building Information Modeling (BIM) software Revit® 2008 for all architecture, interior design and structural engineering.
The triangular-shaped building includes offices, conference spaces, a fitness center, a cafeteria, and the ANG's first facility with a green roof. According to AECOM, "The shape of the building evokes the tri-cornered hat worn by the militiamen of the American Revolution to whom the Guard traces its origin." Wade Joffrion, vice president at AECOM, explained that "Rather than creating a fortress, the solution projects a highly integrated image of landscape and building in which security restrictions play no visible role."
Bringing the DMJM/AECOM's design to reality, Clark Construction Group, LLC worked with a carefully-selected team of subcontractors including Icon Exterior Building Systems, LP. "We worked with DMJM from design conception to completion," says Ken Altman, project manager of Icon EBS.
Sheppard Hall's 170,000–square foot facility is an expansion to the ANG's Headquarters and Readiness Center (Building 3501) and the existing Conaway Hall (Building 3500). A three-level atrium connects Conaway Hall and Shepperd Hall with a glass-enclosed corridor linking the second floors.
Icon EBS teamed with Wausau Window and Wall Systems to help meet Shepperd Hall's performance and aesthetic requirements. Icon EBS installed approximately 44,000 square feet of Wausau's structurally-glazed, factory-fabricated, blast hazard mitigating, unitized curtainwall. Wausau's 8000-BHM Series curtainwall is designed for compliance with Department of Defense (DoD) UFC 4-010-01 requirements.
BIM tools, computer modeling and analysis allow the building team to verify its designs and account for multiple design criteria such as seismic, high wind or thermal performance needs. "Rather than expensive trial-and-error experimentation in the laboratory, in the shop or in the field, computer modeling cost-effectively verifies performance, while minimizing opportunity for delay or mishap during fabrication and installation," says Tom Mifflin, who serves as Wausau's government/military market manager.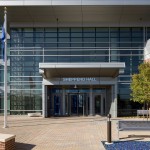 Beyond blast hazard mitigation, Wausau's curtainwall system contributes to achieving the daylighting, energy-efficiency and occupant comfort prescribed by the LEED rating system for new construction. Viracon, Inc.'s VE1-2M Low-E, insulating glass was specified to optimize solar control and visible light transmittance. Recycled material content was used in the manufacturing of the curtainwall system's aluminum framing. The framing's 8-inch-deep, exposed, aluminum surfaces were finished by Linetec. On the exterior, a three-coat 70% PVDF Champagne Gold metallic paint was applied. A clear anodize protects the interior surfaces.
Also on the building's interior, Wausau provided a stainless steel, tubular truss system to ensure structural performance for the blast mitigating design. "As extreme pressures released by an explosive mass impinge on a building's exterior walls, the elements of the window or curtainwall assembly work together, to withstand the blast load and dissipate its energy. Instead of the historical design practice of specifying thick windows with rigid frames, modern blast-mitigating assemblies are intended to be flexible, and absorb, rather than resist, blast energy," explains Mifflin.
Altman adds, "The stainless steel, tubular trusses used in the high spanning areas are… also a tremendous architectural element of the entry atriums." For visual interest on Shepperd Hall's exterior, he also says that Wausau's curtainwall features cantilevered projections that "bump out" from the main façade.
Altman describes the system as a "true, unitized assembly." Structural silicone glazing and sealing are completed in Wausau's LEED-Silver manufacturing center, which provides a controlled, factory environment to ensure the desired product performance. Shipped in pre-assembled units for ease and speed during installation, the unitized system easily accommodates both vision and spandrel glass, masonry and insulated metal panels.
"Early coordination with Icon and the whole building team was crucial to ensure proper anchorage and installation," Mifflin emphasizes. "Any modification to the substrate, glass type, size, rigidity, configurations or required energy absorption through deflection will significantly alter the performance of an integrated system."
Altman praises Wausau's efforts saying, "They were our partner throughout the project" and "were a great team to work with."
The ANG's Shepperd Hall broke ground in late 2007 and was completed in August 2010. During this construction timeline, Andrews Air Force Base and Naval Air Facility Washington merged to become Joint Base Andrews Naval Facility Washington. Joint Base Andrews was the second joint installation as part of the consolidation process that began with BRAC.
The BRAC process was created in 1988 by Congress to aid the DoD in saving money on operations and maintenance. Before Sept. 11, 2011, 15 major military facilities are scheduled to close. Eight major facilities are slated for realignment and consolidation, which included Andrews.
In total, Joint Base Andrews covers approximately 6.8 square miles of land area in a largely self‐contained community in central Prince George's County, Maryland. The base traces its history to a Union encampment in Civil War. It was one of the nation's earliest military airfields. Since 1962, Andrews has been known as the "Home of Air Force One." The Air Force uses and maintains the aircraft exclusively for the President. The 89 Airlift Wing is located on Andrews and referred to as "The President's Wing" flying senior government and military leaders around the globe. The base is the first place in the U.S. seen by many of the world's visiting government and military leaders.
As a result of the BRAC 2005 and National Capital Region initiatives, more than 2,300 additional personnel will be assigned to Andrews by 2011. Other new operational actions included relocating previously-leased locations for the National Capital Region's Air Force and ANG to the base. In the autumn of 2010, more than 1,200 personnel moved into their new offices at Shepperd Hall. Prior to this, the ANG's main directorate offices were separated between Andrews and Jefferson Plaza 1 in Crystal City, Va.
At Shepperd Hall's dedication ceremony, Air Force Gen. Craig R. McKinley, the chief of the National Guard Bureau, was quoted in the Air Force Print News Today saying, "This building was built because terrorists attacked our nation on Sept. 11, 2001 … this building was built, because we couldn't provide a secure work environment for those men and women of the National Guard downtown in Crystal City."
Today, Shepperd Hall helps provide the level of protection and operational efficiencies required in modern, military facilities. Kevin Robbins, Wausau's regional sales manager, says, "BRAC projects like ANG's new facility not only help protect occupants and keep their communities safer, but also modernizes our nation's infrastructure to help with long-term savings associated with reduced heating and cooling costs, better resource management and enhanced worker productivity."
Air National Guard Headquarters and Readiness Center, Shepperd Hall, Joint Base Andrews, Maryland
* Owner: U.S. Air National Guard
* Design manager: CH2M Hill, Chantilly, Va.
* Base architect: DMJM Architects and Engineers, N.Y.,
now part of AECOM, Arlington, Va.
* Interiors architect: Gensler, Washington, D.C.
* General contractor: Clark Construction Group, LLC, Bethesda, Md.
* Glazing contractor: Icon Exterior Building Systems, LP, Timonium, Md.
* Glazing systems – manufacturer: Wausau Window and Wall Systems, Wausau, Wis.
* Glazing systems – glass fabricator: Viracon, Inc., Owatonna, Minn.
* Glazing systems – finisher: Linetec, Wausau Wis.
600
450
Wausau Window and Wall Systems
2011-01-24T12:00:00
Designed to meet BRAC and LEED, Air National Guard building features curtainwall by Wausau
glassonweb.com