Photo source
www.trimloss.co.uk
We have all heard of the word devolution and to most people, it means that Scotland and Wales have their own assemblies independent of Westminster, better to be placed to deal with local politics.
Devolution however, does not just occur in politics, it occurs in business life as well.
About twenty or more years ago, the head of a sealed unit company was the main decision maker when it came to buying software to help run his business.
Today however, we have a plethora of young IT "experts" emerging from our education system, all well versed and street wise in the multitude of disciplines necessary to play the oneupmanship game with their contemporaries.
This has left sealed unit company managers feeling that they now need to leave IT decisions to IT people. The problem is that these decisions do not just affect the IT aspect of particular projects, but also the whole philosophy of marketing, sales and production.
A simple illustration of this is the company that invested many millions of pounds in a new project of a substantial amount of equipment that required a turnover of 25,000 sealed units a week to be profitable.
Since the head of the company had more faith in his IT "expert" than he had in a very experienced production system designer like me, the marketing and sales was left to a web site using only online selling techniques.
Anyone with a modicum of knowledge of the glass trade will know that to sell sealed units, knocking on doors and personal contact is essential.
The sales pitch of my software to this company relied on an appreciation of common sense and good practice, qualities in which the head of this company was severely lacking.
He and I were of diametrically opposite views especially when I added that his production had not been given time to grow gradually and that his marketing and sales models were completely flawed.
A different example of IT practice being carried into sealed unit company management, was then encountered in a large company making about 10,000 sealed units per week.
The head of the company contacted me after reading an article about my software, I had published in a well known glass magazine.
This manager was very young and was very quick to conclude that his purchase of probably the most expensive software available was the right decision and that my company was not big enough for their needs.
This was after I had gleaned that he had over 100 shop floor operatives so his productivity was less than 100 units per man per week.
I told him that my customers are expected to achieve productivity of 250 to 300 units per man per week, a level of productivity which has been proven over many years making millions of sealed units. I added that with his very low productivity, continued viability was almost impossible.
As I had predicted in my conversations with both of the companies illustrated above, they each folded in less than twelve months of those brief encounters.
There are however cases when bad sealed unit company management can survive and that is when sealed unit manufacture is only a part of the business.
Most commonly, this can happen in window manufacturers, but also it can happen in glass companies doing a lot of extra process work with a high degree of added value.
Another common conflict of IT and old school disciplines is when feature rich, but productivity lacking systems are chosen for production.
The IT person may feel that if all the latest features are there, then the end result must be better. They feel it necessary to install tracking systems which would be viable if production was allowed to become disorganised or had extremely varied processes, conditions which simply do not apply to volume sealed unit manufacturing.
In this case, organised and efficient flow production is the order of the day, consistently to achieve the maximum throughput rates of the cutting tables and sealed unit lines.
Sadly, with the hindrance of too many features, the reduction of material and labour costs then becomes an almost forgotten goal in the combined company philosophy.
The old school of sealed unit company manager, whilst not necessarily being the most academy gifted person in the world, nearly always has spadefuls of common sense.
Our current day IT professional has to be academically gifted to be able to do the job, but sadly along with this gift, very often comes the unfortunate lack of common sense.
The old school manager usually has the common sense to know that he should not always try to overrule his IT people, but the IT people often have no such caution.
Unfortunately they tend therefore to sway very important company philosophy towards their thinking, often at the expense of increasing both material and labour costs.
This polarisation of disciplines is rarer in smaller companies where the company manager usually tends to have a finger on the pulse, but in larger companies the problem is extremely common.
The IT domination of decision making can go cosmic when there is a large capital investment, either private or Government backed, to upgrade production tools to achieve the highest sealed unit energy ratings.
Such investments are usually supervised by appointed accountants/IT people. These people usually know nothing about: working out the local marketing potential; the safe progression to the maximum achievable sales; the maximum viable catchment area for frequent customer deliveries; the potential damage from competition in that catchment area from any company in receipt of huge Government job subsidising grants; the shop floor design and overall size to achieve the maximum theoretical throughput speeds of all equipment; the necessary racking for all work in progress and finished goods and the shop floor area required by this racking for various customer lead time options.
The heads of companies in receipt of these large capital investments should be thinking of all these issues, but instead, many have a rose tinted optimism, believing in nothing but good times ahead.
This collective naïvety sometimes produces spectacular company crashes, leaving behind huge debts and other times leaves companies struggling for years to fill their new expanded production capacity at inevitably customer inducing lower prices and therefore very much lower profit margins.
Not all IT people have a lack of common sense and not all old school sealed unit company managers are afraid to stand their ground when they see that some IT philosophy may conflict with what they know to be best practice. Unfortunately, such people are these days in the minority.
For a better understanding of how our Trimloss optimiser software and free advice can help make considerable improvements, go to www.trimloss.co.uk where there is a "Compare your Current Optimiser" page and an "Optimiser Scrappage Scheme" page which shows how previous mistakes in software choice can be overcome with no negative cash flow.

Company Overview for: Moorcroft Computer Services - Top Gun for 33 years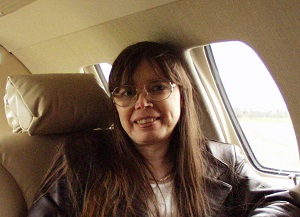 Julie Moorcroft, the founder of Moorcroft Computer Services had a short spell as a flying instructor with a voluntary RAF squadron, teaching young ATC cadets to fly.
This was followed very shortly in 1965 by the design and writing of advanced production software controlling the complicated network of operations to manufacture very heavy duty overhead cranes.
This was at the very start of the computer revolution on the very first disc based computers in the world.
Work began on glass cutting optimisation software in 1978 when asked to solve the problems by one of the first five double glazing manufacturers in the UK.
The first version of Trimloss was released shortly after, under the present company name, working initially on a computer timesharing system.
Continued development of the product took place on timesharing and then mini computers, until the first Personal Computer version was released in 1984. This revolutionary advance made the hardware much more affordable and the number of customers began significantly to increase.
The initial glass optimiser was embellished over the years, with links to many different types of cutting table, including shape tables, plus spacer saws, spacer benders, laser printers for glass and eventually Superspacer lines, at the same time including the complete racking instructions for every stage of work in progress, including toughening, and finishing at despatch.
To date, the company has withstood several takeover bids and Trimloss has produced an estimated 20 million sealed units, which is why we confidently welcome any comparisons with our outstanding performance.
This has all happened under the original company name and ownership, without any takeovers and without rebadging, making us the most experienced and long established glass optimisation company in the world.
FROM: Moorcroft Computer Services 26 Tunshill Road Brooklands Manchester M23 9QB Tel: +44 (0) 161 945 9945 Fax: +44 (0) 161 945 9957 E-mail: julie@trimloss.co.uk Web: www.trimloss.co.uk
600
450
Julie Moorcroft at Moorcroft Computer Services
2011-02-15T12:00:00
The Curse of Devolution in Sealed Unit Manufacture
glassonweb.com