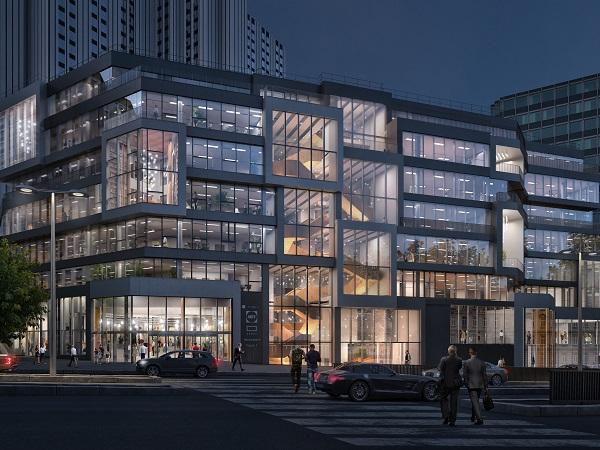 Photo source
www.mvrdv.nl
Each of the façades will be opened up to allow maximum daylight and accessibility, whilst replaced by a collection of differing sized 'boxes' inserted into the existing structural frame.
MVRDV begins construction on Gaité Montparnasse, a 108,000m2 mixed-use transformation that will add a new program on the large roof of the Unibail-Rodamco owned shopping centre Les Ateliers Gaité to include a hotel, offices, 62 social housing units and a 350m2 kindergarten.
Built in the 1970s, the original Vandamme Nord building located in the 14th arrondissement of Paris will undergo a transformation and restructuring to integrate it better to its urban context, with a new façade, improved accessibility and programmatic identity.
A return of a more human scale aspect to an urban area largely characterised by wide boulevards and monolithic structures. Completion of the project is set for the first semester of 2020.
The design for the existing Vandamme Nord building was driven by the ideals of the automobile. This created a development located on a triangular urban island surrounded by the traffic loaded Rue Mouchotte, Avenue du Maine, and the rail tracks of Gare Montparnasse directly opposite.
The 30-storey tower of the Hotel Pullman, designed by French architect Pierre Dufau, is characterized by a clearly defined horizontal plinth, interrupted only by the verticality of the slender tower. Once a landmark, over time the complex has failed to adapt to the changing needs of an urban society.
MVRDV's design proposal breaks up the solid, horizontal volume making the mixed-use program inside the more extroverted which allows each part of the program to distinguish itself and gives a unique identity.
"It seemed important to us to be able to give a strong identity to the entire project, whilst at the same time, keeping a general coherence to provide Ilot Gaité with an equally strong personality", says Winy Maas, MVRDV co-founder.
"Each function has its own volume box and since a living room or a bedroom has a smaller volumetric impact on the façade than say an office with double height meeting room or a four-star hotel entrance, forming a three-dimensional kasbah. It becomes easy to recognize the identity of each program from outside while maintaining an architectural coherence. Small-scale meets big scale. ''
Each of the façades will be opened up to allow maximum daylight and accessibility, whilst replaced by a collection of differing sized 'boxes' inserted into the existing structural frame. These new pixillated programmes will differ in size, program and activity making for a lively ground level plinth that can adapt to future needs.
The boxes provide a wide range of functions including restaurants, shops, a library, exterior gardens, living and workspaces. Density is increased steadily whilst respecting the architectural language of the original design but with an update of run down details and organisational flow of the block.
The offices that currently take up the entire width of the plinth are replaced by a 6-storey office block which includes accessible roof terraces creating an 'address' of sorts on Avenue du Maine.
The public library Bibliothèque Vandamme will be moved from its current underground location to the top of the plinth to improve daylight conditions and direct access to Gare Montparnasse station.
Finally, 62 social housing units and a 350m2 kindergarten will be built between the hotel tower and the office block, Le Héron maintaining the required distance from neighbours in order to create spaces that are lit and have views towards the neighbourhood.
To get rid of on-street parking spaces, 150 extra spaces for scooters will be created within the six-storey underground car park's new basement location. The result is that the roof of the oversized block is used to add a truly urban mix and the shopping centre will be located as a heart of this mini neighbourhood.
The project has great sustainability ambitions with each of its program being certified by the most relevant certification.
The office building, the library and the kindergarten are NF HQE ™ Tertiary Buildings certified while the commercial centre and office building aim for a BREEAM Excellent rating both reflecting its enhanced performance, but also a reduction in its consumption and environmental impact.
MVRDV is working with co-architects SRA Architects, CUT (hotel interior design), Saguez (commercial centre interior design), Egis (construction), SCYNA4 (engineering), LAFI + INEX (MEPP), Arcora (façade engineering) and Artelia (environmental consultant).
The project will be completed in 2020.
More info on www.lesateliersgaite.com and the project will be presented at MIPIM 2018 taking place between 13-16 March 2018 - Palais des Festivals, Cannes, France.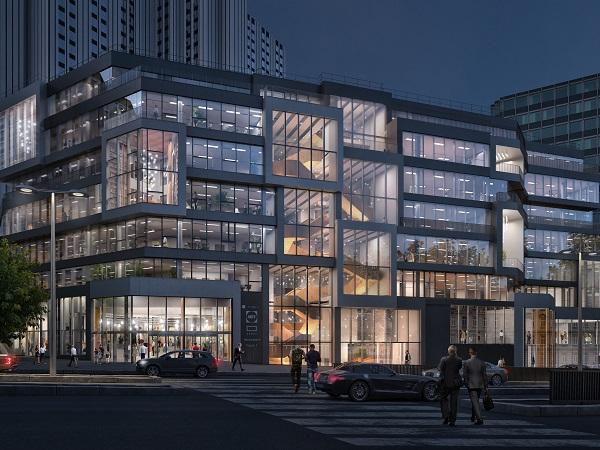 600
450
www.mvrdv.nl
2018-02-16T09:00:00
Construction Starts on Gaité Montparnasse Shopping Centre, Paris
glassonweb.com