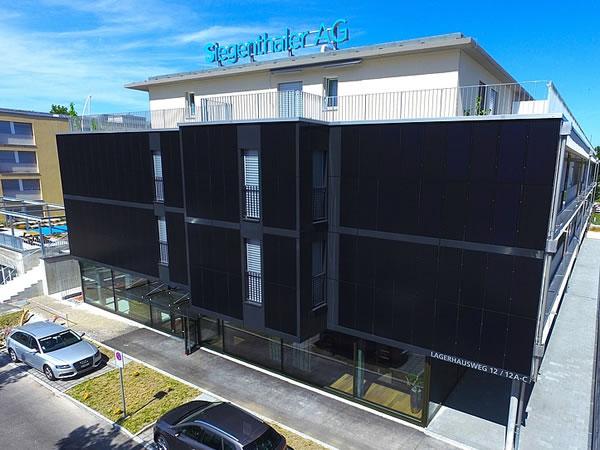 Photo source
www.avancis.de
Reduction of the energy consumption costs of the building with CIGS modules.
AVANCIS, one of the leading manufacturers of premium CIGS PV modules, demonstrates the power of its thin-film modules in the BIPV area.
The solar façade of the new building at Senn Areal in Bern, a residential and commercial building, now produces its own electricity. The façade generates a total solar power of 12 MWh per year current on 135 sm by 130 PowerMax® SKALA PV modules.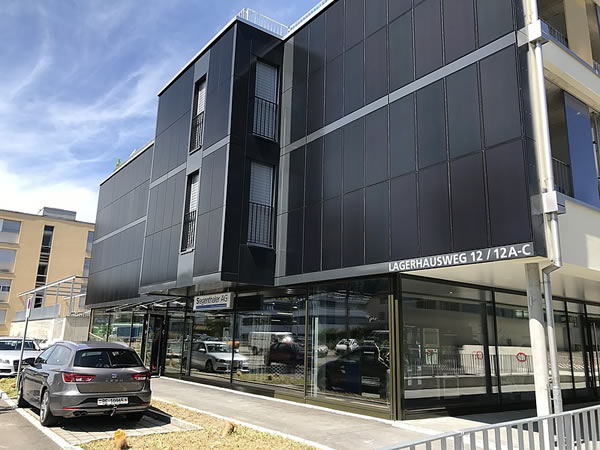 Due to the building energy-efficient requirements, Swiss property developer Fambau decided to build an integrated solar system in the south façade of the building to generate power, thus actively contributing a relevant part to the energy performance of the building.
In addition, the solar façade should embody a homogeneous high-quality glass surface. Neither the cell structure, nor the attachment of the PV modules should be visible.
For many years, Fambau carries out the redevelopment and major-cycle renovations and conversions with a successful portfolio management. At the same time, it is paying attention to the self-imposed energy guideline and is also trying to use alternative, new sources of energy.
Quick and easy mounting for time and cost savings
The planning and installation of the solar façade took place in just three months. 'SKALA solar façade modules impress with their easy and standardized assembly because the design system is really thought-out.
Thanks to the fixed back-rails at the backside of the modules, the mounting is easily done. Compatible to a variety of different substructures, the installation is easy and fast to handle, and this is project-critical', explains Jürg Kunz, Managing Director of Swiss Facade Technology.
Key element of the PowerMax® SKALA modules is the consequent design-performance-combination. The high-quality frameless glass-glass modules with 135 Watt are available in different colors and sizes, which is essential for the architectural and planning freedom.
'Aligned to the legal requirements for energy efficiency constructions, we help architects, façade planners and investors with a genuine solar building product which is not just individual and aesthetic, it pays off as real energy solution', adds Jochen Weick, Head of Business Development & Sales at AVANCIS.' The combination of design and high yield is the decisive factor of our facade module compared to other energetic façade solutions on the market.'
Subsidies for energy-efficient construction
The Swiss Confederation and cantons in Switzerland are providing financial support for the energy recovery of existing buildings with the national energy promotion initiative 'The Building Program'.
The canton of Bern promotes new buildings corresponding to the GEAK class A as well as refurbishments according to GEAK class B. Financial support is also given to the realization of positive energy buildings.
In addition, contributions are available for the issuance of a building energy certificate (GEAK) and possibly for pilot or demonstration systems.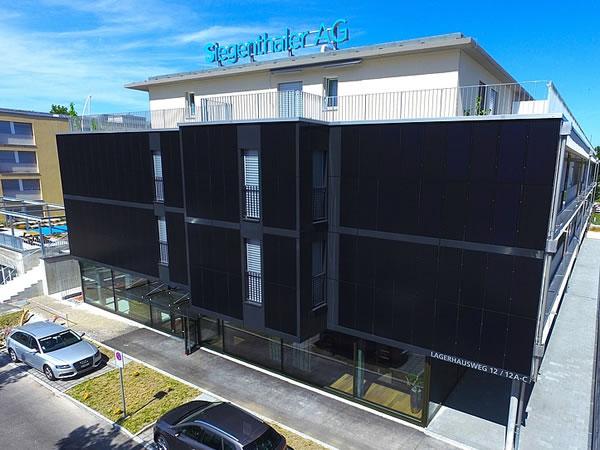 600
450
www.avancis.de
2017-08-04T10:50:35
BIPV in Switzerland: New solar façade with AVANCIS modules for energy-efficient building in Bern
glassonweb.com