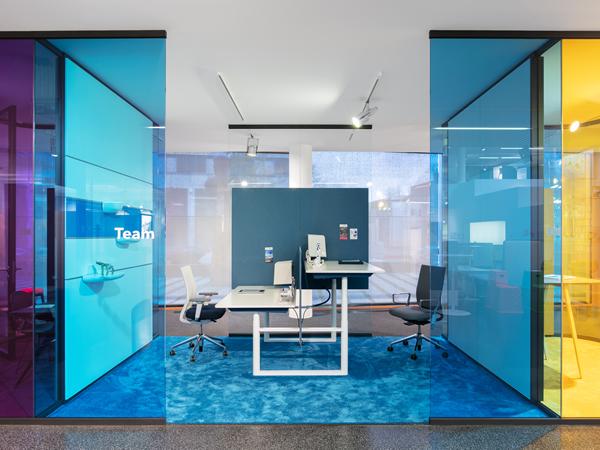 Photo source
Example of a communicative team workspace | Photographer: Nikolay Kazakov, Karlsruhe
Spatial zones for the knowledge work of the future.
Complex tasks and mobile technologies have changed everyday office life dramatically. Workflows that used to be linearly organised now require more creative project work, and the development of new thinking and working processes is changing the use of space.
In order for organisations to be able to act flexibly, actively and adaptably, agile interaction within teams is required. At BAU 2019, feco Systeme GmbH presented spatial solutions for agile work environments, with the focus on team workspaces. 
The combination of transparent, glass fecoplan sound screens and fecophon fabric-lined absorbers creates a communicative area that is acoustically separate within an open office landscape. The team area is designed with blue glass walls facing the corridor.
Closely connected to the team area is a place to which employees can retreat to carry out concentrated work – a glass think tank with curved, rosé-coloured fecoplan glass walls. The structural-glazing door element is flush with the frame on both sides and with a sound insulation test value of 37dB provides the necessary peace and quiet.
The conference room with feconstruct frameless, flush structural glazing and fecofix flush double glazing with an encircling 20-mm-thin aluminium frame enables an intensive exchange of information to take place. The glass wall on the corridor side is made of red glass.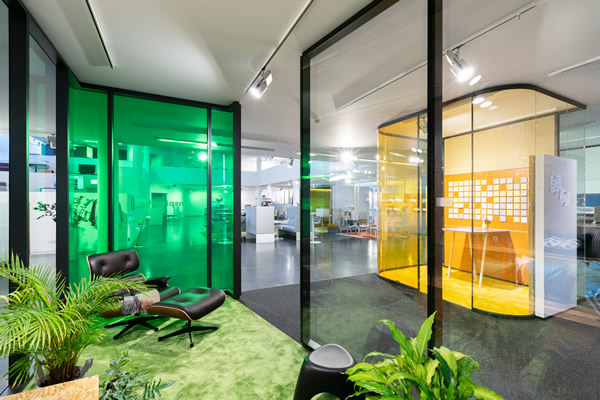 Those who work in a highly concentrated manner need phases of relaxation. Team members can recharge their batteries in the inspiration room, which has been designed in green glass. Sound insulation is provided by the floor-guided ST10B feco glass sliding door with lateral sealing lips and a sound insulation test value of up to Rw,P = 27dB.
The spontaneous transfer of knowledge takes place in the communication space near the team workplaces. Ideas can be sketched directly on the whiteboard surfaces of the walls. The frameless, flush double glazing is bonded to an all-round 20mm-thin supporting frame with a larch-wood surface using the structural glazing process. In this way, effective spaces for ideas and projects are created in the agile working landscape of the future. 
See www.feco.de.
Photographer: Nikolay Kazakov, Karlsruhe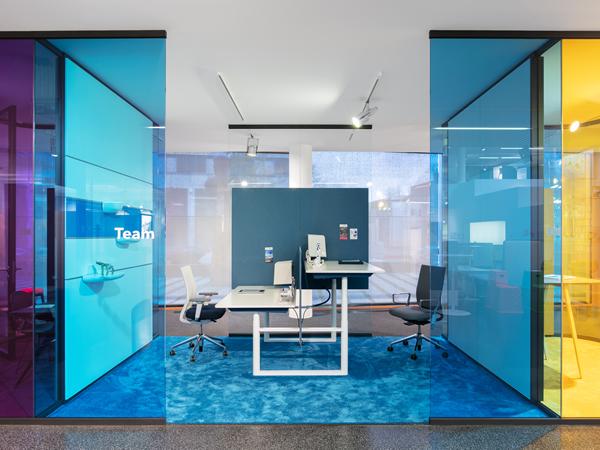 600
450
www.feco-systeme.de
2019-01-16T08:34:13
Agile work landscapes | feco Systeme GmbH
glassonweb.com