Company address
Hermannin rantatie 12 A 21
Helsinki 00580
Finland

COMPANY DESCRIPTION
ARGON MEASUREMENT AND QUALITY CONTROL 
Sparklike is the developer of world's first non-destructive argon analyzers for insulating glass windows and doors. Since year 2001, our products have been sold worldwide, and are used daily by world leading insulating glass manufacturers, testing laboratories and window manufacturers.
UNIQUE NON—INVASIVE INSULATING GLASS GAS MEASUREMENT
Sparklike's product line is based on our proprietary and patented technology, which allows the insulating glass manufacturers to measure the concentration of insulating gas inside insulated glazing units — without having to break them, even on triple and double glazed units through coatings and laminations. Non-destructivity allows the customer to deliver tested IG units, test already installed units or perform long term testing to their production.
Target groups
Mechanical Engineering
Manufacturing, Processing and Finishing
Architecture / Construction
Product categories
Gas filling machines and gas devices
Measurement and control of glass thickness
Measurement, control and inspection of gas mixture
Measurement, control and inspection of gas-filling levels
Measuring devices to be used on site
Products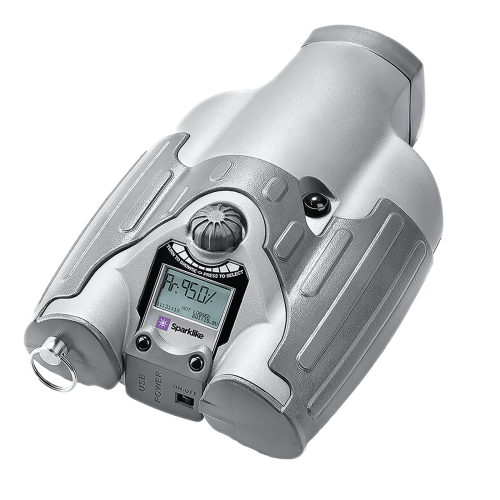 Sparklike Handheld™
SEND INQUIRY
Sparklike Handheld™ enables quick and accurate gas concentration analyses for standard double glazed insulating units.
More details ...
Industry standard
Sparklike Handheld™ has become the industry standard for non-invasive argon measurement and used by IG manufacturers, window and door manufacturers, testing laboratories, building quality inspectors and construction consultants worldwide. It's possible to conduct quick and accurate tests for standard double glazed insulating units, test already installed units for argon concentration or perform long term testing at an insulating glass manufacturing facility. 
Portable and battery operated 
Thanks to its small size, it is easy to get a fast reading of gas concentration – argon or krypton – thus allowing accurate testing and quality contol of standard insulating glass units or IGUs. Sparklike Handheld™'s technology is based on plasma emission spectroscopy. A high voltage spark is launched in the IG units cavity causing a light emission which is observed and analyzed further. The user can simply place the device against the unit, press the button and receive an instant result with high accuracy. Sparklike Handheld™ is a perfect solution for glass industry's tightening production standards delivering quick and accurate quality sampling.
Visit product landing page:
VISIT