In this study we are comparing the performance of the Forvet Francesca 1250HO available via IGE Glass Technologies and the traditional vertical operation.  
The example used was a "Geneva" style cutout which is common in shower door fabrication.
2 holes drilled
2 holes countersink
2 milled cut outs
72" x 28"
10mm thickness
When comparison is complete the results were pointing to the Forvet Francesca 1250HO from IGE Glass Technologies.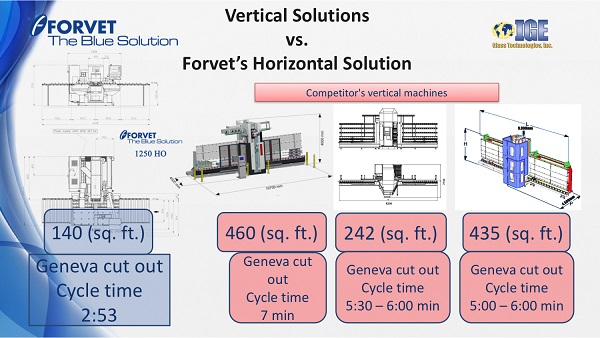 In addition our results found that there were other advantages to the Forvet option as well.
Able to see fabrication work in progress
Fewer moving parts – dramatically higher production
Easy to operate and integrate software
Less square footage taken (smaller footprint) of valuable facility space
For more details on the Forvet product line please visit https://www.igesolutions.com/forvet