The Eleanor Boathouse at Chicago's Park 571 features a translucent transom by EXTECH supporting the project's aesthetic, performance and LEED goals.
He will be managing a portfolio of customer-driven new product development projects from prototype design to launch in support of the company's new business development, and continued focus on energy performance and sustainability.
SC Railing Company, a national leader of architectural railing systems, is pleased to announce their partnership with SpecLink-E to provide architects and designers comprehensive specifications software to effectively communicate their design intent.
Articles
Point supported glass guardrail systems have increased in popularity in recent years offering a modern aesthetic to commercial projects.
You might not think about window making as an art form, but every pane and frame created at Pella requires exceptional skill and craftsmanship.
Office glass partitions provide irrefutable benefits.
When asked about his contribution to glass advancements, O'keeffe quickly points to the greater reliance on science that is inherent in the industry today.
Cladding is more than just a protective skin on the exterior of a building.
Laminated safety glass is an excellent choice for building construction—here's why.
Combining white colour effects with impressive strength-to-weight ratio and excellent postbreakage performance
The AGI educational series illustrates and describes common glazing challenges as a means to communicate best practices for the design and construction industry, not as a sole source for design guidance.
Products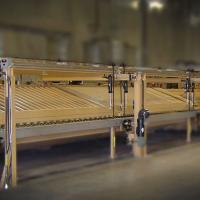 HHH Tempering Resources, Inc.