Glass Pre-processing Technology
News
Successful exhibition for the trendsetter in architectural and automotive glass.
The Ashland, a luxury residential tower in Brookyln, New York, features various panels of 3-ply laminated glass with Alice® digital printing technology.
One of the largest orders of automotive glass pre-processing equipment of all times recently placed with Bystronic glass.
On the first day of the China International Glass Expo 2017, LandGlass Technology Co., Ltd. and Fujian Xinfuxing Glass Co., Ltd, concluded a big deal of three LandGlass cyclone glass tempering furnaces, the first big win for LandGlass and this Expo.
When choosing a sandblasting equipment efficiency and cost saving are two of the main decision factors, along with the technical reliability and the quality of sandblasting provided.
The first event of the year on American soil is about to get under way for Tecglass, the Spanish company specialized in digital printing on glass that became part of the Fenzi Group in 2016.
Articles
Keeping impurities away from the glass is imperative in the glass tempering process. These impurities can cause damage resulting in a product that doesn't live up to aesthetic standards, won't meet a client specification or is completely unusable.
sedak GmbH & Co.KG, Germany, operates the largest insulating glass line in the world – about extraordinary glass processing and the role of LiSEC.
LiSEC is the pioneer in terms of the development and production of production lines for large-scale insulating glasses – incl. interview with Hannes Spiss, facade engineer at Arup, Büro für Bautechnik (office for construction technology)
Skaala was founded in 1956 as a one-man company. The father of the two current owners, Hannu and Markku Hautanen, was a carpenter and already in those days, he processed glass while repairing doors and windows.
glassonweb.com contacted the major players in the flat glass industry, asking for their statements regarding the Brexit vote results and how they see it affecting the near future of the European glass and construction markets.
Cost cutting, it is often said, is difficult in glass production and processing as this sector is characterised by manual processes.
When the visual presence of materials decreases, the maximal transparency creates astounding beauty. In order to enhance transparency, clearer and lighter structures should be used.
In August 2013, the LiSEC development team started a major project with the mission: redesign of the tempering furnaces in order to save manufacturing costs and at the same time increase the process reliability. Result: the AEROFLAT.
Products
Officina Meccanica Schiatti Angelo S.r.l.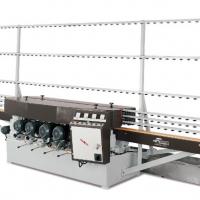 Officina Meccanica Schiatti Angelo S.r.l.