News
Hotver A+ is a sealant suited to the production of IG units for windows in historic buildings and those of particular architectural value.
In one week's time, we will be participating in Glass Performance Days 2017 and Architectural Glass Quality workshop.
The Materials Innovation Factory is the latest addition to the historic city-centre campus of the University of Liverpool.
Messe Düsseldorf celebrates 25th edition in autumn 2018 –registrations welcome with immediate effect.
Glass flooring is becoming more popular in commercial and domestic projects, the decision to use glass in flooring can simply be to allow more light or to create a stunning design feature.
The challenge was to make of One Angel Square one of the most sustainable large buildings in Europe and to have a BREEAM 'Outstanding' rating.
Glaston Corporation has today agreed to extend its long-term financing agreement by three years.
Articles
Facade and roof systems can be developed from concept drawings to physical prototypes through computer 3D models and structural analysis.
In a building, light has both form and function – from the intimate restaurant to the intensity of a hospital theatre; from the serenity of a cathedral to the floodlit arena of a football stadium. Light possesses absolute functionality with the power to change ambience and transform mood.
Glass makes modern life possible, from our coffee makers, fireplaces, and induction cooktops to oil pipelines, syringes, lasers, and more.
The term 'Wind Load' is used to refer to any pressures or forces that the wind exerts on a building or structure. There are actually three types of wind forces that would be exerted on a building.
There are an increasing amount of products available that offer varying degrees of natural daylight and most will be familiar with smaller scale skylights, rooflights or roof windows.
Advances in glass manufacturing processes mean there has never been more choice when it comes to the fire glass market.
When you install rooflights, you're adding a host of benefits to your home. Rooflights can be installed in tight spaces where traditional windows cannot, they flood rooms with natural light and can be tailored to fitted in any home, in a wide variety of styles too.
The innovative modern technology utilizes a switchable liquid crystal film and durable glazing to deliver a number of benefits to medical facilities.
Products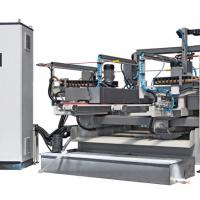 Officina Meccanica Schiatti Angelo S.r.l.
Officina Meccanica Schiatti Angelo S.r.l.